2017 Bookawocky summer reading program underway at Ramsey County Library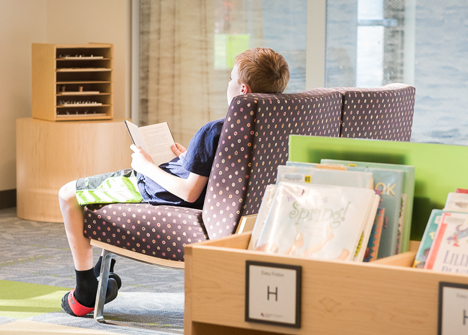 Read, explore and create with Bookawocky! Ramsey County Library's 2017 Summer Reading Program is designed to inspire and encourage children to learn throughout the summer. Bookawocky is a non-competitive program for children of all ages.
Prize levels are available for youth ages 4 and under, ages 5 – 11 and ages 12 – 19 until August 13.
Kids: ages 4 and under
Pick up a reading record at any Ramsey County Library and participate in the 100 Book Challenge. After reading 100 books, bring your record in for a prize. Why 100 books? Studies have shown that reading with your child builds listening, memory and concentration skills; assists with language development; increases vocabulary; and introduces concepts like letters, numbers, shapes and colors in a fun way.
Kids: ages 5-11
Pick up your summer activity booklet and read, explore and create with activities listed inside! After eight activities are completed, bring your booklet to any Ramsey County Library and receive your prize.
Teens: ages 12-19
All you have to do is read a book and tell us what you think of it. Enter book reviews online with a super easy form. Book reviews will be entered into a weekly drawing for gift cards or Minnesota State Fair tickets. Every review entered also gives you a chance to win one of our $50 Visa card grand prizes.
The Summer Reading Program is sponsored by the Friends of the Ramsey County Libraries and Metropolitan Library Service Agency (MELSA), with additional contributions from Minnesota State Fair, Ramsey County Parks and Recreation, Minnesota Twins and Crayola Experience.
Get started at any Ramsey County Library location.
Summer reading program information
Posted on
Thursday, June 8, 2017 - 3:26 p.m.