2018 property valuation notices and tax statements mailing mid-March
Annual property valuation notices and tax statements for 2018 will be mailed to Ramsey County property owners in mid-March. Valuation notices will include your property classification, estimated market value and taxable market value, which is used to determine property taxes payable in 2019.
2018 tax and value data is available online now in the tax and value lookup system.
Valuation questions and appeal
Please review your valuation notice carefully. If you believe there is an error, now is the time to appeal or question your classification or valuation. It will be too late to appeal when proposed taxes are mailed in November. The first step in the process is to contact the Assessor's Office about your questions or concerns at 651-266-2131.
If you still have questions after speaking with the Assessor's Office, you may attend an Open Book meeting in April at the Plato building. Open Book meetings will be held April 3 from 10 a.m. – 7 p.m. and April 4 from 8:30 a.m. – 4 p.m.
Learn more about appeal options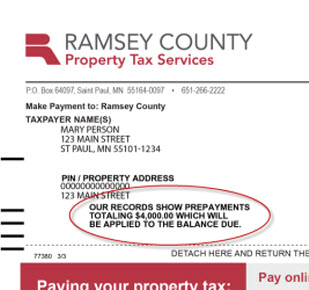 Prepayments
If you prepaid your 2018 property taxes, that amount will be reflected on the top of your tax stubs.
Ramsey County cannot provide advice on whether 2018 property tax prepayments are deductible. Property owners should consult with a professional income tax preparer on questions regarding how prepayments will affect their income tax return.​  
Posted on
Monday, March 12, 2018 - 12:15 p.m.