2018 Public Health Award winners announced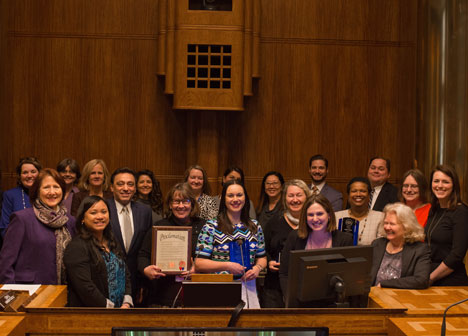 The 2018 Ramsey County Public Health Awards were presented at the April 3 board of commissioners meeting in celebration of National Public Health Week, which runs from April 2-8.
Three organizations and two individuals were honored for their exceptional contributions to addressing health issues and advancing health equity in the community.
The 2018 Ramsey County Public Health Award winners are:
Nominations for the awards were submitted by the public earlier this year. This is the fourth year Saint Paul-Ramsey County Public Health has recognized individuals and groups for their work.
Nominations for the 2019 Ramsey County Public Health Awards will be accepted starting in January of next year.
Additional background on the 2018 winners
Saint Paul Public Schools
In the spring and summer of 2017, Minnesota experienced the largest outbreak of measles since 1990. The outbreak sickened 79 people, primarily children under 10 years of age, most who were unvaccinated for measles. Seventy of the cases were in Hennepin County, three in Ramsey County and the rest in other counties.
Saint Paul Public Schools are being recognized for their exemplary work before and during the measles outbreak to promote immunizations and build "herd" or community immunity -- a situation where infectious disease is unlikely to spread because a high percentage of the population has been immunized.
Dayton's Bluff Achievement Plus Elementary School is a leader across schools in Ramsey County for having 100 percent of their students vaccinated.
Mohamed Hadi is a Somali Cultural Specialist for the Family Engagement and Community Partnerships division of the Saint Paul Public Schools. During the 2017 measles outbreak, Hadi showed leadership in reaching out to the Somali community through a variety of places where young families gather.
The Student Placement Center in Saint Paul Public Schools is the welcome center for new and returning students, educating families about requirements for school entry and supporting efforts to immunize children. Last year, Placement Center health staff administered 1,423 vaccinations to 574 students.
Community Volunteer Eugene Nichols
Eugene Nichols is a long-standing community leader and volunteer who has generously donated his time and talents to improving health and advancing health equity in Ramsey County. A retired 3M Health Care Division Manager, Nichols currently serves as Board Chair at Open Cities Health Center, chairs the African American Leadership Forum-Health and Wellness Group and serves on Shoreview's Human Rights Commission. Nichols was nominated for his tireless efforts to engage the community, raise awareness and ensure citizen's voices are heard on a range of health issues.
Nichols was the project manager of a recent African-American Leadership Forum survey of menthol tobacco use and coordinated subsequent forums that engaged African American community leaders, churches and citizens on this issue. Data from the survey was shared with county and city governments which informed decisions on a county resolution in support of restricting youth access to menthol products, and a Saint Paul City Council ordinance limiting the sale and youth access to flavored and menthol products.
United Family Medicine and Mitchell Hamline School of Law's Medical Legal Partnership
In 2015, United Family Medicine (UFM) partnered with the Mitchell Hamline School of Law to launch a Medical Legal Partnership at UFM primary healthcare clinics. The partnership enables Mitchell Hamline law students to provide legal assistance to patients under the supervision of a university staff attorney.
The Medical Legal Partnership team is on‐site at UFM three days a week, meeting with patients in a location they know and trust. The partnership has been successful in helping patients at the clinic address legal issues that affect their health and the health of their families. Over the course of the partnership, the students and managing attorney have met with more than 300 patients.
Posted on
Tuesday, April 3, 2018 - 2:03 p.m.