2019 summer learning program underway at Ramsey County Library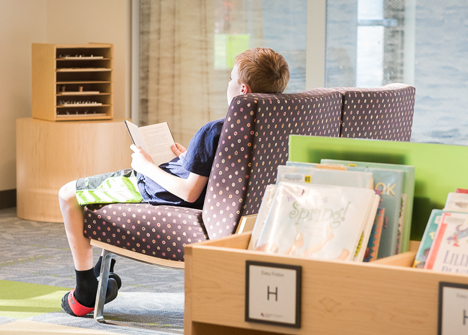 Ramsey County Library's 2019 summer learning program is designed to inspire and encourage children of all ages to read, explore, create and discover throughout the summer.
Prize levels are available for youth ages 11 and younger and teens in grades 6 - 12 until August 17.
Kids: ages 6 and younger
This year, children ages 6 and younger can participate in both our Summer Break at the library and our year-round program, 1,000 Books Before Kindergarten! Prizes for Summer Break is different from the 1,000 Books.*
Kids: ages 11 and younger
Track the number of books read, time spent reading, activities completed, or a combination of all three. This summer, use your Beanstack account or download the Beanstack Tracker app on your phone and choose the "Summer Break" program to participate. Activity logs are also available in your library. For more details, check with your local children's librarian!
Teens: grades 6 - 12
Get reading this summer with Ramsey County Library's 2019 summer learning program, designed to encourage teens to read, explore, adventure and discover.
All summer long, we'll be holding weekly drawings for prizes like gift cards and Minnesota State Fair tickets. Enter by submitting book reviews online with a super easy form or by coming to teen events at the library.
The Summer Reading Program is not competitive. *Prizes available after July 1 while supplies last. Children ages 11 and younger who participate in the summer learning program will get a free ticket to Battle Creek Waterworks by signing up online or picking up an activity log. Upon completion of the program, participants will earn a free book and chances to win family packs of tickets to local events and destinations.Child must be present to collect free book. One free book per child. All activities or badges must be completed by August 17 in order to earn prizes. Due to limited supply, Minnesota State Fair tickets will be available as family pack raffle prizes only.
The Summer Learning Program is sponsored by the Friends of the Ramsey County Libraries, Melsa Summer at your library, Minnesota Twins, Minnesota State Fair.
Get started at any Ramsey County Library location.
Summer learning program information
Posted on
Wednesday, June 5, 2019 - 3:26 p.m.