Absentee voting turnout available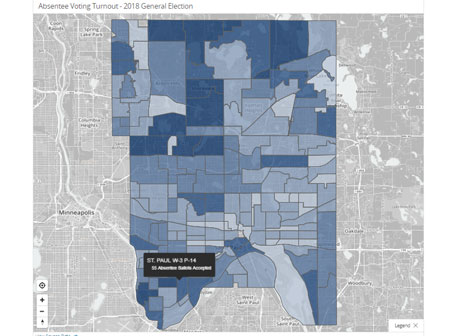 Interested in how many residents are voting by absentee ballot in the 2018 general election?
Absentee voting turnout data is now available in our online Open Data Portal. The portal shows the number of absentee ballots accepted by precinct, city and City of Saint Paul ward.
The data will be updated weekly through Oct. 28 and daily from Oct. 29 - Nov. 7.
Vote before Election Day
Absentee voting is underway. You can request an absentee ballot by mail or cast an in-person absentee ballot at the Ramsey County Elections Office in Saint Paul or the Ramsey County Public Works building in Arden Hills. Absentee voting is available until Monday, Nov. 5.
Twelve early voting locations will be open to Ramsey County residents from Oct. 30 to Nov. 5. You may visit the most convenient location for you, regardless of where you live!
View full absentee and early voting information
2018 primary turnout
A total of 101,074 total ballots were cast in the 2018 primary in Ramsey County - the highest for a primary since 1994.
Data on voter turnout for the 2018 primary is also available in our data portal. Data is available absentee ballots cast as well as on ballots cast by precinct, polling place, city and Saint Paul ward.
Posted on
Tuesday, October 9, 2018 - 12:57 p.m.