Adopt a family in need this holiday season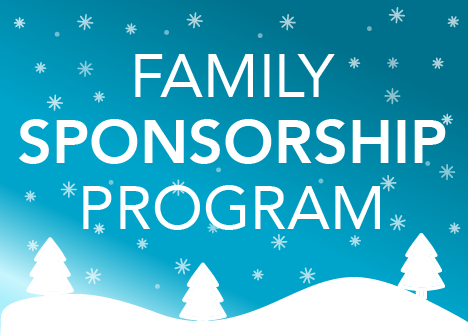 Many families struggle daily to afford food, clothes or a place to sleep. It is no surprise that these families go without presents and special meals during the holiday season. To help ensure more families in our community thrive during this time of year, the Family Sponsorship Program matches community sponsors with Ramsey County families in need. 
Families, individuals, groups and workplaces are invited to sponsor a family this holiday season. The Family Sponsorship Program is a little different than other holiday giving opportunities because it is not simply a cash donation program. Sponsors get the opportunity to personally shop and wrap gifts for their matched family.
The Family Sponsorship Program serves families who are receiving Ramsey County social services and are identified by social workers as needing extra help with food and gifts during the holiday season. Children in these families have often experienced varying degrees of abuse or neglect, and have developmental or other disabilities. Some families are refugees, while others are single parents or grandparents just getting by to provide necessities for the children in their care.
Sponsors make a commitment to provide a family with at least:
One clothing item per child.
One toy per child.
One parent gift.
One grocery gift certificate for the family unit.
A budget of $30 to $50 per family member is recommended, plus an additional $15 per person for food for a holiday meal. 
Committed sponsors will be assigned a family mid-November, based on the estimated number of participants. Social workers provide sponsors with the first names, ages, and wish list for everyone in the family assigned to them. Gifts are collected by social workers and then delivered to the families.
If you are interested in sponsoring a family during the upcoming holiday season, fill out a sponsorship form or contact Luna Wright at 651-266-7839 by Friday, Nov. 5.
The cost of the sponsorship is tax deductible to the extent permitted by law. Donation receipts for tax purposes can be provided upon request.
Posted on
Tuesday, September 28, 2021 - 8:48 a.m.