All in the family: taking on the Recycling Ambassador program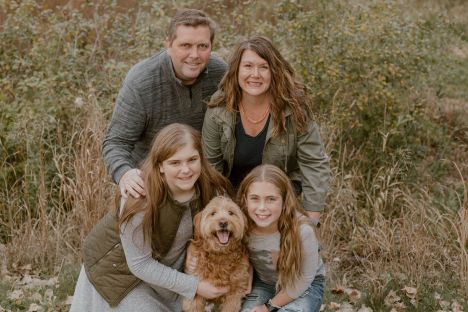 Sustainability isn't a solo journey. That is certainly the case for the Engman family. The family teamed up to support oldest daughter, Anna, in her pursuit of a Girl Scout Silver Award focused on promoting food scraps collection in Ramsey County. Anna's efforts eventually led her and parents, Brian and Katie, to join this fall's Recycling Ambassador program to learn more about environmental health, waste systems and recycling.
We chatted with the Engman family to learn more about what inspires them, how they approach sustainability as a family, and what advice they have for others.
Why did you become Recycling Ambassadors?
Katie: The entire family is interested in sustainability. When Anna chose to focus on food scraps recycling for her Silver Award, we wanted to support her. Joining the Recycling Ambassador program was something to do as a family (and compare notes after each session!).
What topic related to environmental health and sustainability are you most passionate about?
Anna: Recycling food scraps!
Brian: Reducing the amount of waste that goes into the landfill. Even though Ramsey County does not send trash to a landfill (it's processed and used to make electricity), I'm passionate about reducing waste in the first place. Some examples include reducing the use of Styrofoam plates in schools or showing support for food to hogs programs in schools.
Katie: Supporting young people, who are some of our best advocates. I want to show them that their voice is important and needed to truly make change.
What advice would you give parents and youth who would like to develop more environmentally friendly habits in their family?
Brian: Start small and let that snowball grow. For instance, start collecting food scraps in your family. Or use reusable containers for food storage and school lunches. Finally, think about what you're purchasing, especially in considering bulk options versus individually packaged food.
Katie: One time I bought individually packaged cheese slices, and our youngest daughter immediately called me out on that! Being a family today is really hard with a lot of upstream swimming. I try to make the right decision the easy decision. For example, we have a recycling bin right next to our trash in the kitchen. Instead of making a dedicated stop, we bring our food scraps to a drop-off when already out and about on errands. These small habits really do make a big difference.
Anna: Just try it! Do some research and get educated. Embrace the reusable trend (containers, straws, utensils) for school lunches.
Anna, what do you think about the misconception that collecting food scraps is "icky"?
Anna: I say, what the heck?!? Freeze the full bags if you're not dropping them off any time soon. Use small containers, like an ice cream bucket, so you're changing the bag often. We've never found collecting food scraps to be stinky. It's the same stuff we'd be putting in the trash anyway.
"When I'm not doing Recycling Ambassador activities, you can find me…"
Brian: Probably doing some sort of yard work! Or enjoying the outdoors. I love being outside.
Katie: Cleaning (according to Anna) up after foster pups and my family, supporting our daughters, working to build a healthy and safe community for all, and dreaming of our next adventures as a family.
Anna: Swimming the 50-meter butterfly, the 50-meter freestyle and 100-meter breaststroke. My favorite Olympian is Lydia Jacoby by the way.
 
Are you interested in becoming a Recycling Ambassador? Even though registration is closed for Fall 2021, we invite you to learn more (and plan ahead) at ramseycounty.us/RecyclingAmbassador.
If you would like the help of a Recycling Ambassador at a future event (like hosting an information booth or giving an educational presentation), contact Mariah Quick, Recycling Ambassador coordinator.
 
This article is part of a series featuring Q&A's with Recycling Ambassadors.
Previous Q&A's: Paige Ahlborg
This article is featured in Green Ramsey, an environmental health newsletter from Ramsey County. 
Learn more about and subscribe to Green Ramsey.
Posted on
Wednesday, December 1, 2021 - 8:00 a.m.