Applications open for Young Adult Public Sector Career Academy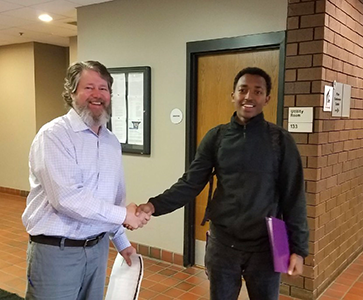 Ramsey County is offering a 10-week career academy for eligible residents between the ages of 18 – 24 who are interested in learning more about careers in government.
The Career Academy will provide exposure to public sector careers, networking opportunities and work readiness skills. Each intern will receive one-on-one employment guidance from Workforce Solutions. The Career Academy will start on Jan. 20 and run through March 26.  Participants will be paid $11.50 – 12 an hour and may qualify to receive a bus or gas card for transportation assistance.  
Workforce Solutions' U LEAD youth counselors will support eight interns. Interns will earn a customer service credential from St. Paul College and will rotate between Parks & Recreation, Property Management, Library and Public Works. Each department will provide interns with supervision, information on careers and other activities to support participant knowledge and exposure to occupations. This could include tours, job shadows, short projects, mock interviews, networking opportunities, panel discussions, intern presentations, research and other assignments.
The Young Adult Public Sector Career Academy is coordinated by Workforce Solutions and is funded by the Workforce Innovation and Opportunity Act and Minnesota Youth Program.
Interested in applying, call 651-266-6039 for more information. Applications accepted through December 20.
Posted on
Thursday, November 21, 2019 - 2:14 p.m.