April is Child Abuse Prevention Month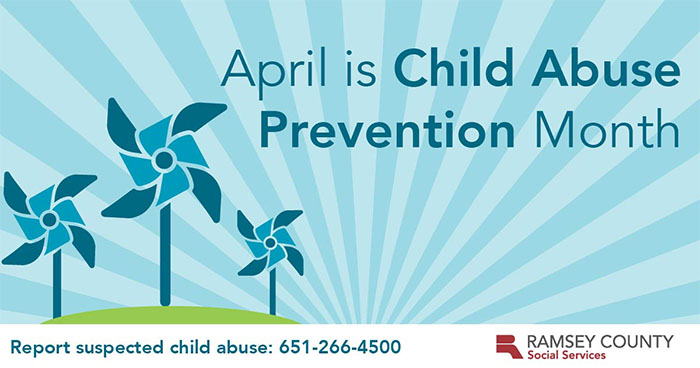 The last year has brought many challenges to families, residents and staff as we all do our best to stay safe with COVID-19 continuing to circulate in our community. With most schools still closed or in a hybrid model in Ramsey County, child abuse still happens, but isn't as likely to be seen/reported by education professionals or other trusted adults. Family, friends and relatives who see child abuse are encouraged to report it. Child Protection (CP) intake and case management staff continue to respond to reports and offer assistance to families 24 hours a day, seven days a week.  
When Child Protection receives a report that leads to an investigation, CP workers first ensure the children are safe and then provide the family with resources to overcome barriers so they can remain a healthy family unit and be successful. Removing a child from the home only happens as a last resort when safety cannot be obtained and there are no family or friends who can safely step in. 
Ramsey County believes that all children belong with their families that love them.
Child abuse can be neglect, sexual abuse or physical abuse. If you feel a child is in immediate danger (sexual abuse or severe physical abuse), you should always call 911. If you suspect non-life-threatening child abuse and observe one or multiple of the signs below, make a report by:
Signs of child abuse can include, but are not limited to:
Unexplained injuries - abused children can have unexpected burns or bruises in the shape of objects.
Changes in behavior – abused children can appear scared, anxious, depressed, withdrawn or aggressive.
Regressing to earlier behaviors – abused children may return to thumb-sucking, bed wetting, fear of the dark or strangers, or loss of language skills.
Fear of certain people or places – abused children may have anxiety about leaving school or going places with the person abusing them.
Changes in eating – abuse can cause stress, fear or anxiety that changes eating disorders and can result in weight gain or loss.
Changes in sleeping – abused children can appear fatigued as they may struggle with nightmares or falling asleep.
Changes in school performance or attendance – abused children may have difficulty concentrating in school or have excessive absences.
Poor personal care or hygiene – abused children may appear uncared for: Dirty, have strong body odors, and may not have weather-appropriate clothing.
Risk-taking behaviors – young people who are abused may use drugs or alcohol or carry a weapon.
Inappropriate sexual behaviors – children who have been sexually abused may exhibit overly sexualized behavior or use explicit language.
This list was adapted from a publication by Children's Advocacy Centers of Texas.
To learn more, visit the Ramsey County Child Protection webpage.
Posted on
Tuesday, April 20, 2021 - 12:18 p.m.