Baby Cafe National Breastfeeding Month Celebration
Image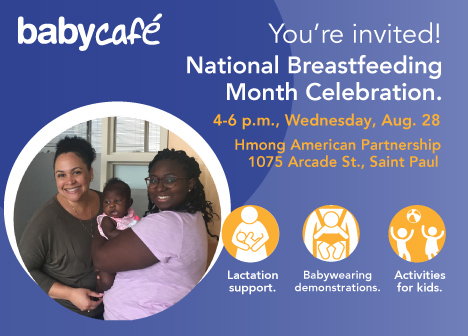 When
Location
Hmong American Partnership
1075 Arcade Street 
Saint Paul, MN 55106 
Get directions
Ages
All
Beginning of tab section with 2 tabs. Left and right arrow keys will navigate between tab navigation links.
Join us for a special Baby Cafe event to celebrate National Breastfeeding Awareness Month. During the event families can get breastfeeding, chestfeeding and pumping support from lactation counselors, try babywearing enjoy light snacks, win prizes and learn about different cultural practices for new parents. No registration necessary! Walk-ins welcome.
Ramsey County Baby Café is a free drop-in service offering breastfeeding support for those who are pregnant or breastfeeding. The monthly support group offers a friendly and comfortable environment to relax, get help with breastfeeding, share tips and techniques and socialize. One-on-one help from lactation professionals is available. Attendees can also have their babies weighed and get additional support.
Ramsey County Baby Café is operated by Saint Paul – Ramsey County Public Health with funding from a Statewide Health Improvement Partnership (SHIP) grant in affiliation with the Women, Infants and Children (WIC) supplemental nutrition program. Families do not have to be WIC eligible to attend Baby Café.
Back to tab navigation.
End of tab content.