BizRecycling helps local thrift shop save money, recycle more and invest in community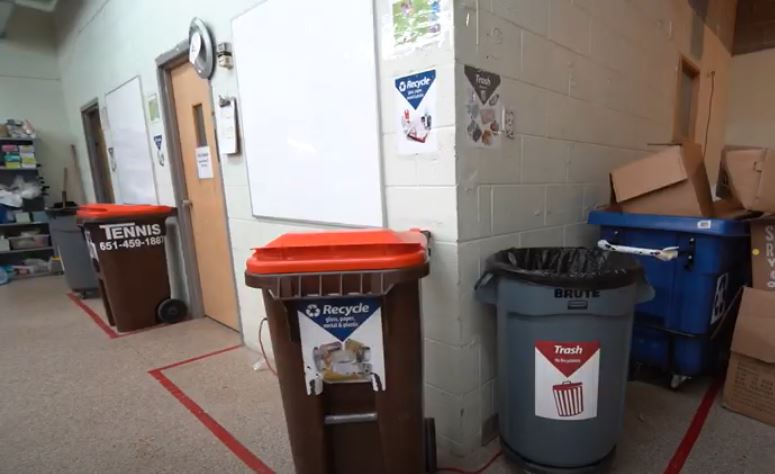 Thanks to a BizRecycling grant in 2019, Basic Needs Thrift Shop (formerly Stone Soup) has been able to cut its trash volume in half, reduce its garbage bill by 50% and save more than $6,000 a year. In addition, the community-based non-profit recycled over 180,000 pounds of textiles, shoes, purses and other items in 2019 – 74% more than in 2018!
"Our biggest success as an organization in 2019 was our recycling program," said Vickie Snyder, the organization's board president. "The revenue brought in from recycling and the money saved on waste went back into our programs to help people and stayed in the local community." Find more of Snyder's comments in this testimonial video.
Basic Needs supports the needs of the community, such as housing, food and clothing. Located in St. Paul Park, the thrift shop sells gently used clothing, furniture and other household items donated by community members.
Through a 2019 BizRecycling grant, Basic Needs implemented a comprehensive, long-term recycling training program for its employees and volunteers, added recycling bins and improved signage.
Basic Needs has recycled electronics, scrap metal, books, non-reusable clothing, shoes and accessories through a partnership with Simple Recycling. The grant also funded collection containers for recycling batteries and defective electronics. 
BizRecycling works with businesses, apartments and multi-unit buildings in Ramsey and Washington counties to reduce waste and improve recycling and food scraps collection. Experts answer business waste reduction and recycling questions by phone, email and video. They also conduct onsite visits on a case-by-case basis. Contact BizRecycling if your business is interested in free technical assistance and applying for a grant. Learn more at BizRecycling.com.
This article is featured in Green Ramsey, an environmental health newsletter from Ramsey County. 
Learn more about and subscribe to Green Ramsey.
Posted on
Wednesday, September 1, 2021 - 12:00 p.m.