BizRecycling helps Maplewood Toyota jump-start composting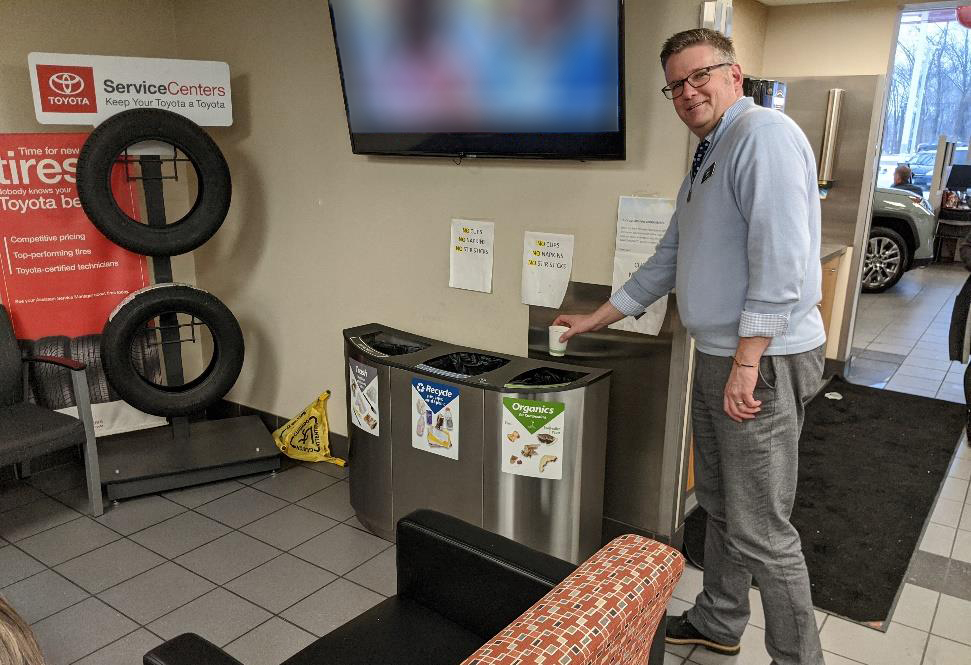 When a customer recommended BizRecycling to staff at the Maplewood Toyota Dealership, Manager Ross Meyer seized the opportunity. After a free assessment from BizRecycling, the dealership applied for and received a grant from them to fund the purchase of recycling containers and a six-month supply of compostable cups and bags to start a food scraps collection (organics recycling) program. Also, three months into the grant, Maplewood Toyota received a BizRecycling food scraps reward grant, which reimbursed them for the first few months of food scraps hauling costs.   
To help implement the new food scraps collection program, BizRecycling trained Maplewood Toyota staff. This training focused on the importance of reducing waste and recycling and staff said it was an eye-opening experience.  
Maplewood Toyota now diverts 18,200 pounds of food scraps and other organic waste from the trash each year!
"I would absolutely recommend BizRecyling to other businesses," Meyer said. "The entire experience was easy and smooth, without any downsides." 
BizRecycling works with businesses, apartments and multi-unit buildings in Ramsey and Washington counties to improve their recycling and food scraps collection. Experts answer business waste reduction and recycling questions by phone, email and video. They also conduct on-site visits on a case-by-case basis. Contact BizRecycling if your business is interested in free technical assistance and applying for a grant. Learn more at BizRecycling.com.  
Posted on
Tuesday, March 2, 2021 - 8:58 a.m.