Carter and Kleinschmidt receive 2018 AMC awards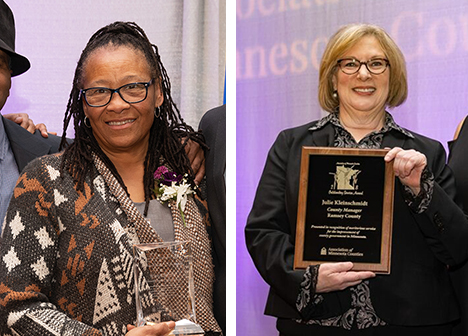 Two Ramsey County leaders were honored at the 2018 Association of Minnesota Counties (AMC) Annual Conference on Dec. 3.
Commissioner Toni Carter received the AMC President's Award, which is given to an individual who has a deep history of public service to their community and their county. 2018 President Susan Morris (Isanti County Commissioner) presented the award to Commissioner Carter in recognition of her exemplary leadership on issues including health equity, transportation, economic development, and family, youth and workforce services.
Former County Manager Julie Kleinschmidt received an Outstanding Service Award, which is presented to individuals who have exhibited exceptional leadership, participation and service to Minnesota counties. Kleinschmidt was honored for several of her accomplishment as county manager, including leading the county through the Great Recession and ensuing recovery, guiding the organization to a AAA bond rating and overseeing the county's realignment into a Service Team structure.
Posted on
Wednesday, December 5, 2018 - 11:20 a.m.