Commissioner Carter receives JDAI Distinguished System Leadership Award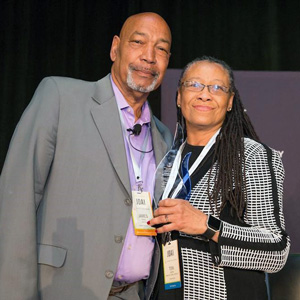 Commissioner Toni Carter has received the Annie E. Casey Foundation's Juvenile Detention Alternatives Initiative (JDAI) Distinguished System Leadership Award. 
The JDAI Distinguished System Leadership Award was established in 2014 as the highest honor the foundation bestows on a system stakeholder (individual or team) currently working in a JDAI site. Its recipients are distinguished in their careers and serve as ambassadors for JDAI in their sites and states as well as within the JDAI network. The award recognizes stakeholders who make excellent use of data to drive decisions and who innovate and engage traditional and non-traditional partners in the reform agenda. 
Pictured with Commissioner Carter is Jim Payne, a JDAI pioneer who has assisted numerous states through JDAI implementation, actively contributed to JDAI strategy and contributed to JDAI intersite conferences. 
Posted on
Monday, April 24, 2017 - 4:37 p.m.