Community members appointed to Transforming Systems Together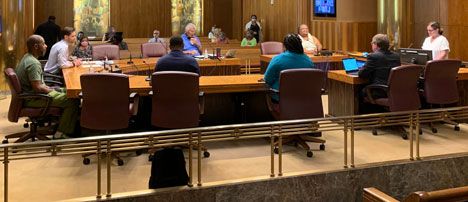 The Ramsey County Board of Commissioners appointed nine community members and alternates to the founding governance body of Transforming Systems Together (TST) during their June 16 meeting. The community members will join nine Ramsey County department leaders to study county policies, programs and budgets, and to make decisions on how to redesign services to be more responsive to community needs.
The board unanimously approved the slate of nominees developed by the TST Catalysts, an independent group of community members that facilitated outreach and community forums to identify individuals to join the county's shared decision-making initiative. The primary community members are: Tierre Caldwell, Isabel Chanslor, John Day, Lisa Deputie, Faith Dietz, Martín Hernández, Mohamed Liban and KaYing Yang. The alternates are: Aleatha Austin-Thompson, Matthew Emerson, Thai Lor, Jennie Shining Star Marlowe, Bre Porter and Clara Ware.
The TST governance board will convene at a later date to establish a structure on how it will proceed in the next phase of work. A TST Director selected by both community and system members will be hired to elevate and integrate cross-systems efforts and manage an internal grant-making fund. In total, the Transforming Systems Together program and budget represents 3.0 FTEs, $2 million in 2020 and $3 million in 2021 that will be dedicated toward efforts that will rebuild and reshape how the county works with its community to build a stronger future.
Posted on
Tuesday, June 16, 2020 - 10:15 a.m.