Costco warehouse in Maplewood committed to waste reduction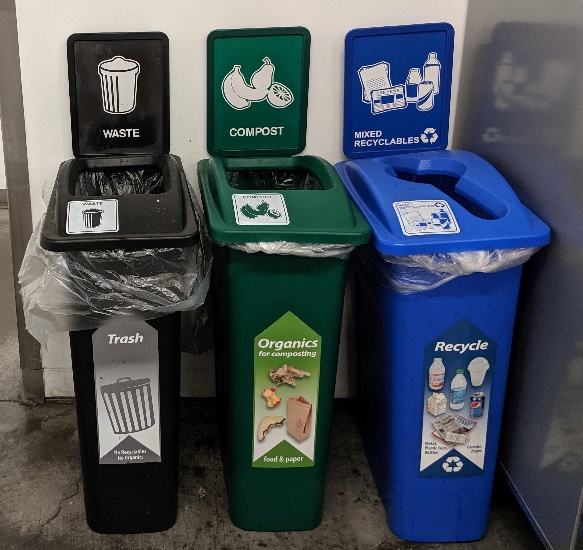 Last year, Jennifer Edman, Costco supervisor at the Maplewood location, reached out to BizRecycling to help improve Maplewood Costco's recycling. The Maplewood location had already been collecting recyclable and compostable items and donating unsold food to Second Harvest Heartland (a food bank) for several years, but Edman knew there was still opportunity to do more. After a visit with a recycling specialist, Edman discovered that all food scraps could be composted.
Costco Maplewood was awarded a BizRecycling grant to purchase reusable utensils, which were given to all staff to eliminate single-use utensils in the breakroom. Reusables are a great way to not only cut waste but to also reduce expenses from continuing to buy more utensils. Additional recycling and food scraps (organics recycling) containers were also purchased to collect more items throughout the warehouse.
By recycling an estimated 36,400 pounds and composting an estimated 200,200 pounds each year, Costco Maplewood has saved $27,880 with fewer trash pick-ups.
"Without the grant, we may not have succeeded as much with our organics program" said Edman. "It's not perfect but gets better every week."
BizRecycling works with businesses in Ramsey and Washington counties to improve their recycling and food scraps collection. Recycling experts can answer your business waste reduction and recycling questions by phone, email and video. They're also beginning to resume on-site visits on a case-by-case basis. BizRecycling is still processing grant applications for businesses that are ready to make improvements and save some money. Learn more at BizRecycling.com. 
Posted on
Friday, June 30, 2017 - 12:01 p.m.