County board appoints Jack G. Serier as Ramsey County Sheriff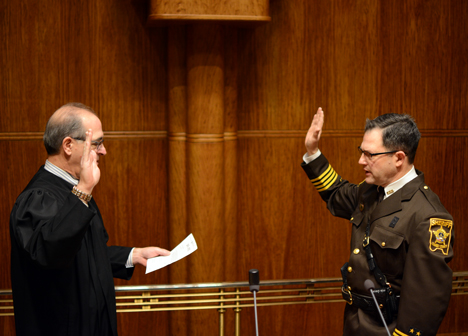 The Ramsey County Board of Commissioners this morning appointed Jack G. Serier the 22nd Ramsey County Sheriff by a unanimous 7-0 vote. Immediately afterwards, Serier was sworn in to office by Second Judicial District Chief John H. Guthmann.
Serier will serve the two years remaining in the four-year term of Sheriff Matt Bostrom, who retired from the Office on Jan. 3, 2017 after 32 years in law enforcement. Bostrom was elected Sheriff in 2010 and re-elected in 2014. Serier has been a member of the Sheriff's command staff since Jan. 2011, serving as Chief Deputy (second-in-command) of the 400-employee, $54 million office for the past two years. 
By state law and Ramsey County Charter, a vacancy of the Office of Sheriff must be filled by county board appointment. Board Chair Victoria Reinhardt led public meetings of the board of commissioners on Dec. 20 and 27 and Jan. 3 to determine the appointment.
"Throughout this process, commisisoners stressed that continuing the advancement of public safety for our residents, businesses and visitors over the next two years is the top priority," said Reinhardt. "Jack Serier earned our unanimous support by assuring commisoners that he would build on the office's widely-supported approach and continue to strengthen connections between the Sheriff's Office and all of our diverse communities." 
Sheriff Serier has worked in law enforcement since 1990 and spent much of his career with the Saint Paul Police Department. He is also a public safety educator and community volunteer. 
"I am humbled and honored to be entrusted to lead the Ramsey County Sheriff's Office - Minnesota's first law enforcement agency," said Serier. "I am grateful to the board of commissioners for their confidence in me and commitment to our shared vision to advance public safety in our communities."
Posted on
Tuesday, January 10, 2017 - 10:31 a.m.