County Manager Julie Kleinschmidt presented with workforce equity award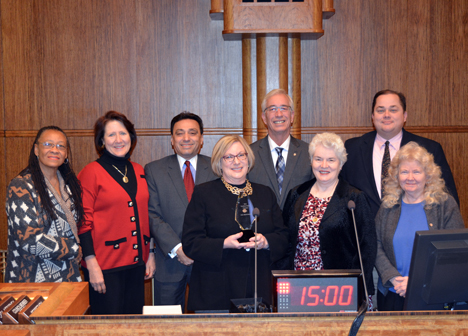 Ramsey County Manager Julie Kleinschmidt was recently presented with a 2016 Workforce Equity Champion award by the Itasca Project. Kleinschmidt received the award for her work as co-chair of the Itasca Project's cohort focused on closing socioeconomic employment gaps in the Twin Cities region.
Kleinschmidt was recognized for the award and her work with the cohort as part of the Dec. 20 board of commissioners meeting.
The Itasca Project is an employer-led civic alliance focused on building a thriving economy and improved quality of life in the Minneapolis-Saint Paul area. The alliance tackles issues that address regional economic vitality, economic competitiveness and prosperity for all.
Posted on
Tuesday, December 20, 2016 - 4:47 p.m.