County Road H reopens with county's first roundabouts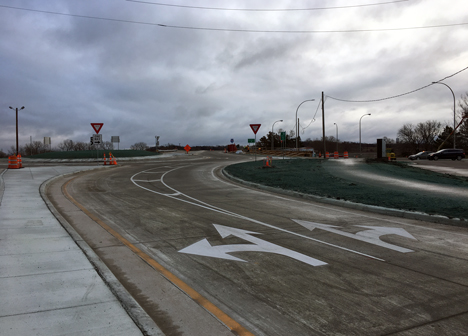 Ramsey County's first roundabouts are open in Mounds View and Arden Hills.
The two roundabouts, one at each ramp terminal on either side of I-35W, were constructed in 2016 as part of the County Road H/35W interchange project. The roundabouts provide improved access, keep traffic moving and decrease chances of severe accidents at intersections. If you are not quite sure how roundabouts work, read this MnDOT article on navigating roundabouts to learn how drivers, pedestrians and bicyclists can navigate them quickly and easily.
Additional improvements
Other improvements include County Road H reconstruction from Old Highway 8 (CSAH 77) to the easterly I-35W ramp terminal, as well as additional lanes and a new traffic signal at the County Road H/Highway 10/County Road 10 intersection. A new noisewall along the west side of I-35W between County Road I and H2 will be constructed starting in early 2017.
County Road H now includes a new wider bridge over I-35W with two traffic lanes in each direction and a regional trail for bicycles and pedestrians. A new ramp from I-35W northbound to County Road H will provide direct access to the Rice Creek Commons redevelopment site.
Posted on
Wednesday, November 30, 2016 - 5:42 p.m.