County social worker makes a difference with Maplewood Police and Fire Department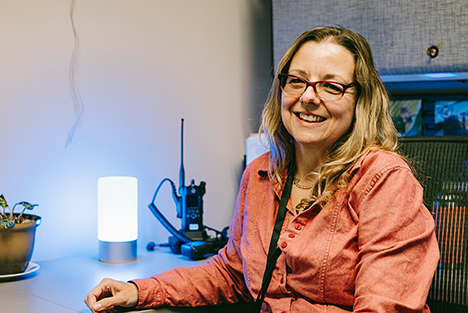 Like many municipalities across Minnesota in the early 2010s, the City of Maplewood Police and Fire Department saw a dramatic increase in 911 mental health-related calls made by a small number of residents. 
Maplewood created a Mental Health Outreach Team (MHOT) in 2019 to help serve people with mental health concerns. The team, made up of specially trained police officers, fire department staff and community paramedics, responds to mental health-related emergency calls.
The MHOT realized it couldn't do this work alone. So in April 2021, an embedded Ramsey County social worker was added to their team to provide residents with another level of expertise, access to critical health history and connections to support services. 
Joe Sheeran, Maplewood city spokesperson, said that when the MHOT began its work, the team members saw that they were just starting to scratch the surface of the community's mental health needs.
City leadership knew adding a county social worker  would help the team get to the root causes of the issues police officers were repeatedly responding to. Having an embedded social worker gives the MHOT the ability to refer people to the long-term services they need instead of calling 911.
"We realized that these frequent callers had needs that were above our capacity as law enforcement and public safety," Sheeran said. "We needed a social worker working directly with this team to connect residents with the myriad of services and programs out there to help."
As the department's first county embedded social worker, Amy Kuusisto-Lathrop uses her 18 years of county mental health and crisis experience to approach the community's evolving needs in terms of social work, mental health outreach and public safety.
According to Kuusisto-Lathrop, Maplewood is unique because it's a first-ring suburb of Saint Paul but doesn't have the same access to resources available in Saint Paul. Since she began in the role, the team has been working to understand how it can best serve the city's elderly residents, ethnically diverse communities, veterans, unsheltered people, and people living in group homes, domestic violence shelters and homeless shelters.
Kuusisto-Lathrop begins her workday by following up on police reports where officers indicated people in calls they responded to could have mental health concerns. Follow-up on these reports can vary widely. Sometimes Kuusisto-Lathrop looks through the county database to access previous health history on a caller or see if they are already connected to services. Other times she makes a phone call or goes in-person to their home to engage with them. Sometimes she accompanies police to visit callers' homes, sometimes she's with other county employees.
Kuusisto-Lathrop also listens to calls as they come in over the police radio and works with officers on patrol.  
"When I listen to the police radio, I hear mental health needs every day," Kuusisto-Lathrop said. "Sometimes our officers do a great job of identifying a mental health need, but they have to attend to the safety need first. In those cases, they will let me know who needs a follow-up. It's really about working together to figure out how best to meet a person's needs."
Her efforts appear to be working. Just in the past month she reached out to 51 people in the community and completed 17 assessments to get them connected to the appropriate services. 
"An officer just emailed me about a woman that was calling 911 constantly about a domestic violence situation," Kuusisto-Lathrop said. "After we reached out and got her connected her to short-term case management and counseling, 911 calls from her have now completely dropped off."
Sheeran thinks embedded social workers on public safety teams is the model of the future. Maplewood is currently working with Ramsey County to add a second embedded social worker to increase capacity for services and support outside of emergency response.
Embedded social work offers public safety professionals more choices and alternatives to people in crisis with the goal of preventing further need for higher levels of care. Kuusisto-Lathrop adds, "It's an honor and privilege to serve the people of Maplewood in this capacity and partner with public safety and the MHOT."
Posted on
Monday, November 1, 2021 - 9:03 a.m.