COVID-19 testing available at Frogtown Community Center
MARCH 2, 2022 UPDATE
This testing site has now closed. Find current options and locations for COVID-19 testing.
Residents of Frogtown/Thomas-Dale and other adjacent Saint Paul neighborhoods have an additional option for free, easily accessible COVID-19 testing starting Jan. 27.
Location and hours
Saint Paul – Ramsey County Public Health is offering COVID-19 testing at Frogtown Community Center, 230 Como Ave., Saint Paul.
Tuesdays 3-7 p.m., through March 1.
Closed February 22 due to inclement weather.
Appointments and walk-ins welcome.
Test type and results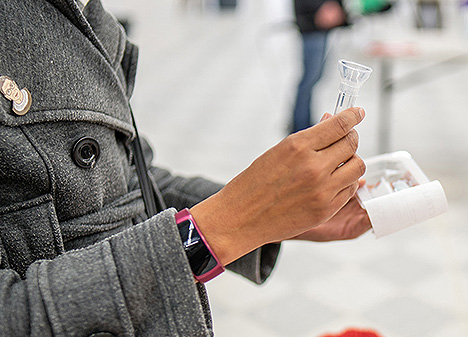 The site offers self-administered COVID-19 saliva tests, by appointment and walk-in, for nearby residents and anyone regardless of where they live, age 2 and up. The polymerase chain reaction (PCR) tests in which individuals spit into a tube is the most accurate way to detect the COVID-19 virus. 
Staff and volunteers will help individuals sign-in online to the testing lab's website (Vault Health) and then gather the self-administered saliva tests for expedited delivery for processing. Results will be provided by Vault Health through their regular options for notification. Ramsey County will not have access to results.
"We are very appreciative of the Minnesota Department of Health who has provided the test kits and the city of Saint Paul for partnering with us to open this site," said Sara Hollie, Saint Paul – Ramsey County Public Health Director. "This expanded capacity to provide tests to community is vital because we know it's one of the most effective COVID-19 mitigation strategies – as is vaccination, masking and staying home if you are sick."
Other testing sites and options
Posted on
Tuesday, January 25, 2022 - 2:14 p.m.