Despite COVID-19, more than 100 children in foster care will find forever homes this year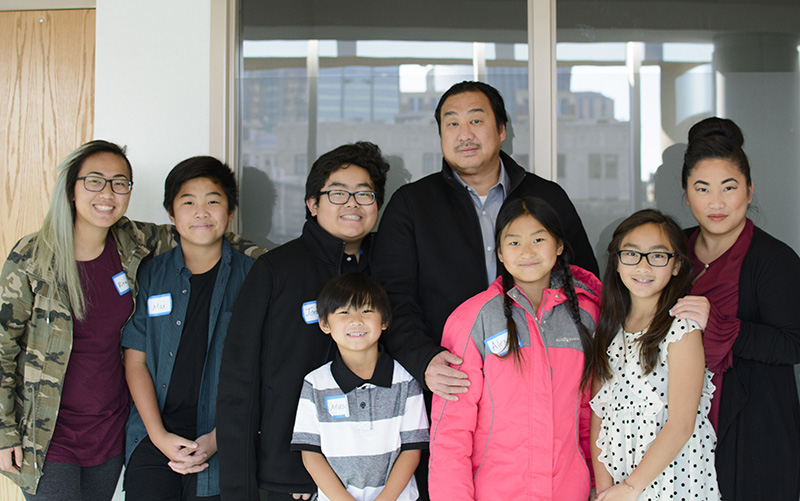 Like most every celebration, National Adoption Day looks very different this year. Traditionally, Ramsey County adoptive families from many walks of life to have been brought together to celebrate new beginnings by finalizing adoptions on a shared day or spending a morning exploring and playing at the Minnesota Children's Museum.
While families are not able to celebrate together this Saturday because of COVID-19, it's important that we still recognize their commitment and love. That adoptive families in the midst of a pandemic continue to offer a new start is a testament to their compassion
A lot has changed, but the goal remains the same
Keeping children with their birth families is always the priority. Even before children enter foster care, Ramsey County Child Protection workers do their best to help provide families with resources to overcome barriers so they can remain a healthy family unit. When youth do enter foster care, case workers and licensed providers continue to work with birth families to help make reunification happen. Today there are about 873 youth in Ramsey County foster care, and almost 70% of them will return to their families when the time is right.
If it is determined through the judicial process that children cannot return to their birth homes, they can spend up to four years in foster care waiting for adoptive families, according to national statistics. There are currently 417 Ramsey County youth in foster care waiting for their forever homes.
Ramsey County are so grateful to the 573 committed licensed foster care providers who open their homes to children during this uncertain time in their lives. Further, we are so grateful that our foster care providers stayed committed to providing stable homes throughout the pandemic, when being a parent is no easy feat. Earlier this month, our commissioners were joined by foster care providers and staff for a proclamation at the board meeting.
So far this year, 88 youth in foster care have found forever homes. By the end of 2020, it will be more than 100. About 70% of those adopted, or who will be adopted this year, found homes with extended family members, reflecting the dedicated efforts of our adoption workers to keep families together whenever possible. When children are adopted by extended family, trauma is minimized, behavioral and mental health outcomes improve, and cultural identities and community connections are preserved.
Committed to finding the right families
Social Services staff continue to find the right homes that meet the unique needs of the children, whether for language, cultural or religious reasons. Additionally, they have also increased connections within the LGBTQ, Two Spirit and gender non-conforming communities. Shortly after foster care and adoptions received the Human Rights Campaign certification in their All Children – All Families program in 2018, they formed Ramsey County's first and only LGBTQ2S+ (Lesbian, Gay, Bisexual, Trans, Queer/Questioning, Two Spirit) Steering Committee, which continues to move inclusion work forward. In 2020, foster care and adoptions received national recognition in this work by receiving the Human Rights Campaign's "Innovator" and "You are Welcome Here" seals of recognition.
If you know someone who may be interested in becoming a foster care provider or adoptive parent, please encourage them to visit the links below to learn more.
Posted on
Thursday, November 19, 2020 - 3:16 p.m.