Donate diapers to the Mothers First diaper bank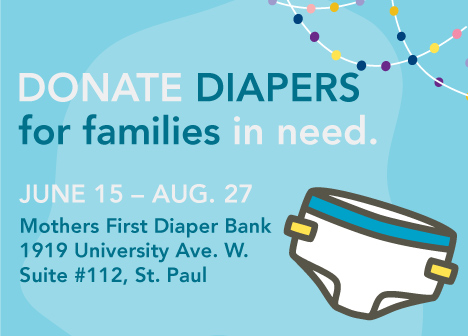 Diapers can cost $70-80 per baby each month. One in three families struggles to afford this. Mothers First is creating a diaper bank to fill Ramsey County families' urgent need for diapers through donations from the community.
Did you know?
Babies who remain too long in a soiled diaper are exposed to potential health risks.
Diaper needs are a hidden consequence of poverty and lack of resources.
Most childcare centers, even free and subsidized facilities, require parents to provide a day's supply of disposable diapers.
Many parents cannot go to work or school if they cannot leave their babies at childcare.
Drop off diaper donations
June 15 - Aug. 27
Mothers First Diaper Bank
1919 University Ave. W, Suite 112
Saint Paul, MN 55104
Sizes needed: 
Premie - Size 5
Pull ups, 3T-6T
Questions?
Posted on
Monday, June 6, 2022 - 11:42 a.m.