Early voting available Oct. 29 - Nov. 4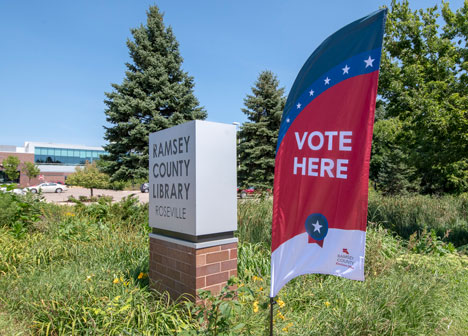 Avoid the lines on Election Day by casting your ballot ahead of time through early voting!
Eight early voting locations will be open to Ramsey County residents from Oct. 29 to Nov. 4. You may visit the most convenient location for you, regardless of which city you live in!
Locations
Ramsey County Elections - Plato Building*
Como Streetcar Station
Arlington Hills Community Center*
Martin Luther King Recreation Center*
Highland Park Community Center
Ramsey County Library - Roseville*
Ramsey County Library - Shoreview
Ramsey County Library - White Bear Lake
*Hmong and Somali language translation available.
Hours
Times vary by location. The Ramsey County Elections Office location will be open from 8 a.m. to 6 p.m. on weekdays. The other seven locations are open from noon to 6 p.m. on weekdays through Nov. 1.
All locations will be open from 10 a.m. to 3 p.m. on Saturday, Nov. 2 so voters can cast their ballot over the weekend.
Pop-up locations
Two one-day pop-up early voting centers will also be available.
Turnout information
Updates on voter turnout by early and absentee voting will be posted daily in our Open Data Portal.
Posted on
Monday, October 28, 2019 - 4:05 p.m.