Emergency Communications and Fire Chiefs Association adopt lifesaving PulsePoint mobile app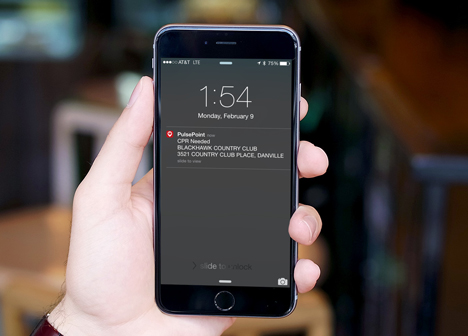 Ramsey County Emergency Communications and the Ramsey County Fire Chiefs Association have adopted PulsePoint - a free mobile app that allows CPR-trained citizens to receive alerts about nearby sudden cardiac arrest victims in public locations so they may administer aid until emergency responders arrive.
"Last year, our 9-1-1 telecommunicators received about 60 calls where PulsePoint could have been used to alert nearby CPR-trained citizens that their help was needed," said Scott Williams, Deputy County Manager of Safety and Justice at Ramsey County. "About three-in-five U.S. adults say they have CPR training. This technology allows us to activate any number of trained people who may be just moments away and willing to provide aid."
The PulsePoint app provides three functions:
 Alerts CPR-trained citizens of cardiac events in their vicinity so they may administer aid.
Helps build a comprehensive Automated External Defibrillator (AED) registry.
Informs the community of emergency activity in real time. The free app is available for download on the App Store and Google Play.
"Every second counts when someone suffers a sudden cardiac arrest," said Mike Mondor, EMS Chief at Maplewood. "Citizens trained in CPR or who can quickly find an AED effectively provide a force multiplier for our first responders - this app provides us with a tool to reduce cardiac arrest down time and potentially save lives."
PulsePoint Respond empowers everyday citizens to provide life‐saving assistance to victims of sudden cardiac arrest. Subscribers who have indicated they are trained in cardiopulmonary resuscitation (CPR) and willing to assist in case of an emergency can be notified if someone nearby is having a SCA and may require CPR. If the cardiac emergency is in a public place, the location-aware application will alert users in the vicinity of the need for CPR simultaneous with the dispatch of advanced medical care. The application also directs these potential rescuers to the exact location of the closest AED.
The companion app, PulsePoint AED, lets you report and update AED locations so that emergency responders, including nearby citizens, can find an AED close to them when a cardiac emergency occurs. You can help build the community registry by using PulsePoint AED to describe the location of an AED and add a picture. This information is then staged for local authorities to verify. After that, the AED location data can be made available to dispatchers and anyone using the PulsePoint Respond app.
Posted on
Thursday, February 14, 2019 - 11:50 a.m.