Emergency Communications and Fire Chiefs Association partnership earns innovation award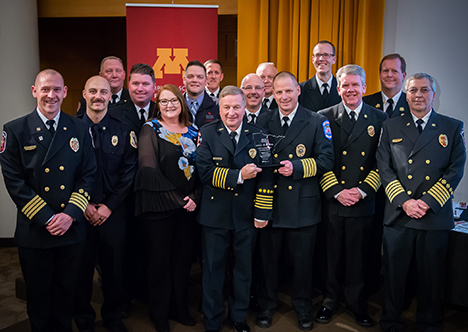 In December 2018, the Ramsey County Fire Chiefs Association received a Local Government Innovation Award from the Humphrey School of Public Affairs at the University of Minnesota for its closest unit dispatching project.
Working in collaboration with Ramsey County Emergency Communications Center, the award-winning project breaks down geographical barriers to ensure the quickest response time to emergencies such as fires and cardiac arrest.
With all county emergency vehicles equipped with an automatic vehicle locator, the Emergency Communications Center can identify the closest unit to the emergency instead of limiting its search to the closest fire station within a caller's city or jurisdiction. The project has proven to save lives and reduce property damage.
Closest unit dispatching was one of five projects that received awards in the city category. The university recognized 19 local government projects in total.
Ramsey County was awarded a grant of $5,000 as one of four leading innovators identified by a panel of judges who evaluated projects for their creativity, sustainability and collaboration.
The Ramsey County Fire Chief's Association represents 12 cities throughout the county. Through innovation and collaboration, the association has created safer conditions for firefighters, reduced costs and provided better service.
Posted on
Sunday, December 30, 2018 - 5:06 p.m.