Five ways to practice sustainability this February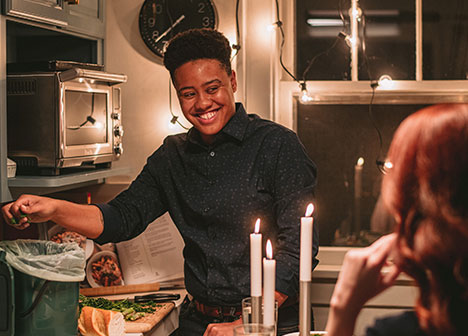 Whether for Valentine's Day, Palentine's Day or simply getting through the winter, here are five ways you can show love to the environment while celebrating those you care about.
1. Reimagine a nice meal.
If you're cooking for or with a special someone, consider making a vegetarian dish the star of the show. Not only are veggie-forward dishes easy on the wallet, but also they are more eco-friendly than meat-centric dishes. As you cook, throw veggie and other scraps in your food scraps container to be composted. Try simple yet flavorful chole, nutrient dense lentil soup, or stick-to-your-bones pasta.
2. Give recyclable greeting cards.
If you're a lover of the traditional greeting card, try finding (or making) cards that are recyclable. Look for cards or supplies made of plain paper or cardstock. Greeting cards with glitter, foil or other non-paper elements are not recyclable. If you receive a card that lights up or has sound, make sure to bring it to a household hazardous waste collection site so the battery inside is properly disposed.
3. Take a loved one on a reuse-focused outing.
Looking for a celebratory activity? Consider perusing local thrift stores, consignment shops and salvage companies for an afternoon with your loved one. The reuse market is alive and strong in the Twin Cities, where you can find one-of-a-kind pieces that are being kept out of the waste stream and are often less expensive than buying new.
4. Volunteer to show love to your community.
Several organizations in the area benefit not only the community, but also the environment. Consider volunteering your time and talent to help those in need, especially during the hard winter months. Some local organizations Ramsey County has worked with include Second Harvest Heartland, Bridging and Better Futures Minnesota.
Just kidding. But you could learn how to properly recycle or dispose of seasonal items, like space heaters, old cold and flu medicine and snowblowers. Maybe it's not the most romantic gesture, but your future self (and the environment) will thank you.
However you spend your time this February, inject some sustainable tender loving care that is good for your loved ones, yourself and the planet!
 
This article is featured in Green Ramsey, an environmental health newsletter from Ramsey County. 
Learn more about and subscribe to Green Ramsey.
Posted on
Tuesday, February 1, 2022 - 8:00 a.m.