Free family fun: Winter Recreation Sampler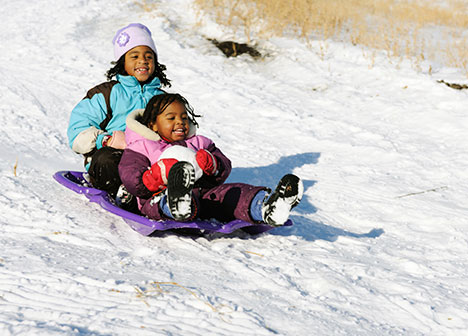 Join Ramsey County Parks & Recreation for winter fun for all ages! Bundle up and experience kicksledding, snowshoeing, cross-country skiing, sledding and more. The Winter Recreation Sampler provides a chance to try out a variety of outdoor activities and is geared toward beginners and winter enthusiasts alike. 
Admission, parking and equipment rental is free. Attend one or all event dates, no registration is required.
Dates, times and activities are weather dependent and subject to change or cancellation based on the status of the pandemic.
Keller Regional Park - Golfview
Dates: February 19 - 21
Time: 11 a.m. - 3 p.m.
Park information
The Golfview parking lot can be accessed by traveling north on Highway 61, between Roselawn Avenue and County Road B. 
COVID-19 information
This program will take place outdoors, with space for people to socially distance.
Attendees are encouraged to bring a mask and hand sanitizer. 
Restrooms at the parks are closed for the season. 
Please stay at home if you are sick or are exhibiting symptoms of COVID-19 such as fever, sore throat, cough or shortness of breath. 
Posted on
Thursday, February 4, 2021 - 11:00 a.m.