Green Card Voices exhibit visits Ramsey County Library this summer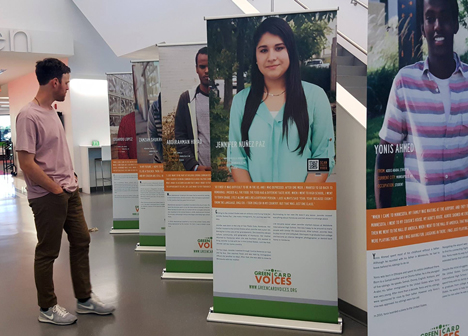 Experience 20 Twin Cities immigrants' stories at the Green Card Voices exhibit at Ramsey County Library locations this June, July and August. The exhibit includes photos, biographical information and a QR code that links to video stories told in a first-person point of view. Stories are told by American immigrants – whether they're naturalized citizens, permanent residents, refugees and asylees, or persons on temporary visas.
Exhibit dates: 
To kick off the exhibit at each of the locations, Green Card Voices Executive Director Tea Rozman-Clark will moderate a panel of three immigrant speakers, each from a different continent. The panel will be followed by a question and answer session. 
Panel dates: 
Thursday, June 8 at 7 p.m., Ramsey County Library - Roseville.
Thursday, July 6 at 7 p.m.. Ramsey County Library - Maplewood. 
Saturday, August 5 at 2 p.m., Ramsey County Library - Shoreview.
This series is funded with money from Minnesota's Arts and Cultural Heritage Fund. For more information, visit the Ramsey County Library website. 
Posted on
Thursday, June 8, 2017 - 9:18 a.m.