Growing the Infrastructure Workforce Through Federal Investments
Image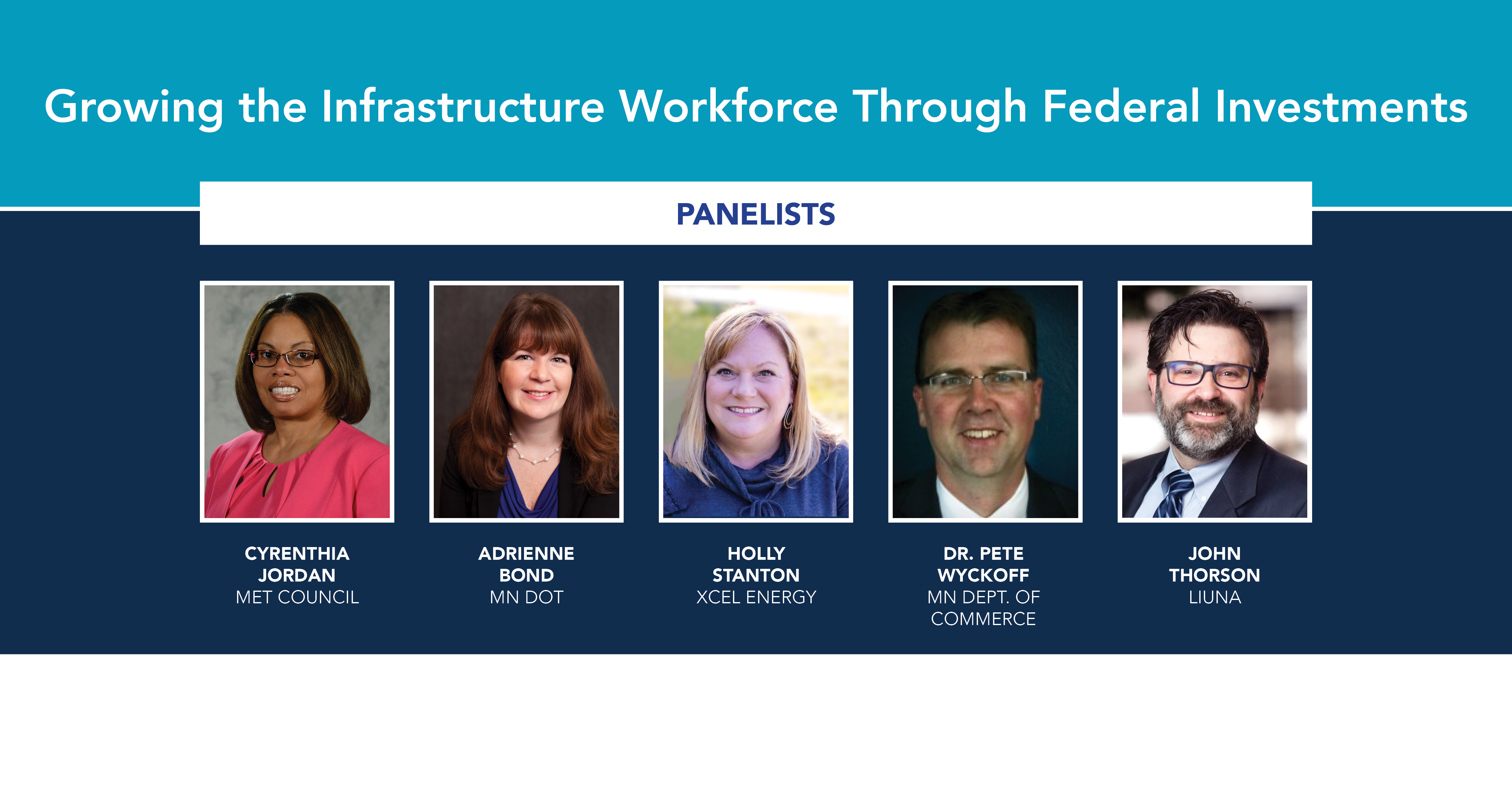 Date: May 1, 2023
Time:
11:30 a.m.–1:30 p.m.
Location:
Ironworkers Local 512 Hall
851 Pierce Butler Route
Saint Paul, MN 55104 
Register
Ages: Adults
Beginning of tab section with 1 tabs. Left and right arrow keys will navigate between tab navigation links.
Join us for lunch and an engaging discussion to learn about how the Infrastructure Investment and Jobs Act and other federal investments will impact our local workforce. A panel of industry experts will share their insights: 
Moderator: Ling Becker, Director at Ramsey County Workforce Solutions.
Panelists:
Background: 
There is unprecedented potential for growing the infrastructure workforce through new federal investments.   
The Infrastructure Investment and Jobs Act (IIJA) also known as the bipartisan infrastructure law, will invest $1.2 trillion to rebuild crumbling roads, bridges, airports, and public transportation systems; support advanced energy technologies and clean water infrastructure; close the digital divide; and modernize the electric grid, among other improvements.  
In addition, these investments will create and sustain hundreds of thousands of jobs and incentivize cities and states to adopt policies to ensure that they deliver quality jobs for local residents from all walks of life and provide good value for the public's investment.  
Overall, the IIJA offers state and local leaders a high level of discretion on whether and how they incorporate workforce development activities into infrastructure investments.  
The IIJA offers expansive flexibility to hire, train, and retain workers in executing infrastructure projects, and there is no single program that explicitly focuses on workforce development. Instead, the onus is on state and local leaders to understand where this funding is available and harness it for these purposes.  
Lunch provided complements of the Workforce Innovation Board of Ramsey County.
Sponsored by:
Back to tab navigation.
End of tab content.