Hub for the Holiday events at Union Depot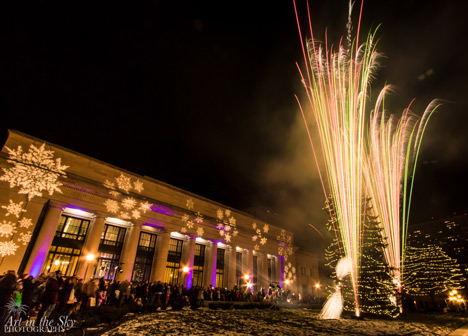 Celebrate the holiday season at Union Depot!
Union Depot will again host a variety of holiday-themed, family-friendly events again this season.
View full holiday event schedule
Holiday Tree Lighting and Movie Night
The annual Holiday Tree Lighting will be held on Nov. 30 from 5:30-7:30 p.m.
The evening will include music and entertainment in the Head House. At 7 p.m., attendees will move outside to the North Plaza for the tree lighting celebration and short fireworks display.
At 7:30 p.m., a free showing of Elf will begin in the Waiting Room.
Holiday Bake Sale
Shop the top Twin Cities bakeries at Union Depot on Saturday, Dec. 8 from 10 a.m. - 5 p.m. There's no admission to attend this year!
Canadian Pacific Holiday Train
The Canadian Pacific Holiday Train will stop at Union Depot on Monday, Dec. 10 for a musical performances by The Trews and Willy Porter. Attendees are encouraged to bring cash or a healthy food donation to benefit Keystone Community Services. This event will start at approximately 6:30 p.m.
European Christmas Market
The European Christmas Market is returning to Union Depot Nov.30 - Dec. 2 and Dec. 7-10. Shop for unique and handmade holiday gifts and decorations from local vendors. There will also be opportunities to taste European-inspired food and delicacies. Free entertainment will be provided throughout the day. 
Posted on
Wednesday, November 21, 2018 - 1:09 p.m.