I am Community: Citizens Advisory Council celebrates work at annual meeting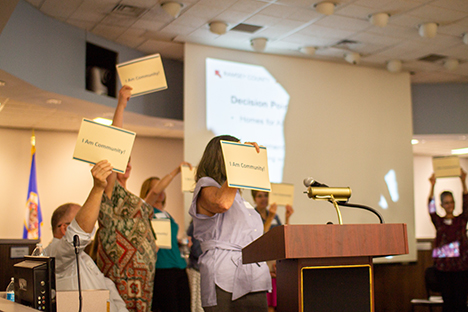 Seventy-eight community members and stakeholders attended this year's Citizens Advisory Council (CAC) annual meeting on Sept. 23. The theme of this year's meeting was "I am Community!" to showcase how members of the CAC and its committees/councils represent residents of Ramsey County.
"We had such a good turnout. I was very happy to see so many individuals from Ramsey County's Health and Wellness Service Team and other divisions attend the meeting," CAC Chair Jill Gunderson-Gernes said.
During the meeting, CAC members gave testimonies about why they serve on the council and about the work they are doing in the community. Many, if not all, members have been impacted by the issues they were working on. 
After the CAC members shared their stories, Director of Government Relations Jennifer O'Rourke presented her legislative report that focused on the CAC's work on housing. O'Rourke committed to identifying opportunities to utilize the CAC committees and councils during the upcoming legislative session. Committees then brainstormed ideas about potential additions to the upcoming legislative platforms that could be elevated to the Ramsey County Board of Commissioners. The activity gave groups a chance to think about the upcoming legislative session so that they would be able to effectively support upcoming bills or testify regarding their stories and experiences.
Commissioner Carter provided concluding statements and thanked the council members for their work.
After the 2018 annual meeting, the council decided to focus their efforts on housing because the lack of affordable housing impacts people from each community in Ramsey County. This past year, the council reviewed housing initiatives that intersect with state, federal and advocacy-based priorities and made an action plan to support Ramsey County's Interdepartmental Housing Efforts, the Stability Starts with a Place to Call Home strategic priority and housing-based legislation.
Moving forward, the Citizens Advisory Council would like to continue making positive changes and plans to promote the CAC more in the community to attract new members and increase community engagement.
Learn more about the CAC
Anyone interested in serving on the Citizens Advisory Council should contact Kristen Jackelen at 651-266-4423.
Openings are available in following committees:
Posted on
Tuesday, October 22, 2019 - 12:43 p.m.