Interactive map for recycling and waste collection sites expanded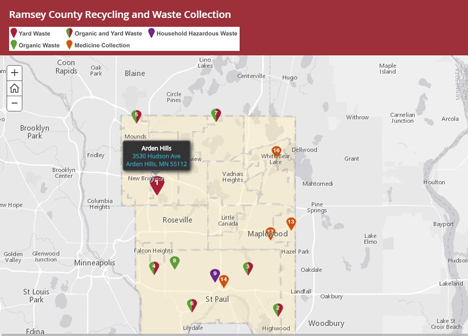 The popular interactive online map for users of Ramsey County's drop-off collection sites for yard waste, organic waste, household hazardous waste and medicines has been expanded and enhanced.
The refreshed map includes new suburban locations for medicine collection and oil and filter recycling, the mobile household hazardous waste site and the organics recycling site in Saint Paul.  The mobile-friendly map now includes 16 locations color-coded by type, materials accepted, hours of operation, one-tap driving directions. and links to more detailed information about recycling, including instructional videos in English, Spanish, Hmong and Spanish. The map interface has also been reformatted for easier use.
In 2016, Ramsey County collected more than 270,000 cubic yards of leaves, grass and brush; 713 tons of household hazardous waste; over five tons of unused medicines and 291 tons of organic waste. 
Posted on
Thursday, May 18, 2017 - 2:03 p.m.