Jean Krueger appointed Property Management Director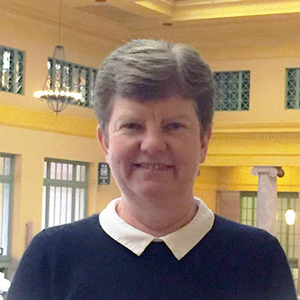 Jean Krueger has been named Ramsey County's Director of Property Management. Krueger joined Ramsey County in 2013 as Real Estate Asset Manager with the Ramsey County Regional Railroad Authority at Union Depot.
Krueger will begin in her new position on June 1, following the retirement of long-time director Bruce Thompson. She will oversee a $26 million budget and 75 staff responsible for operations, maintenance and improvements at more than 20 owned and leased properties throughout Ramsey County. These include the historic Saint Paul City Hall and Ramsey County Courthouse, seven Ramsey County Library locations, the Law Enforcement Center, Emergency Communications Center, Adult Correctional Facility, Juvenile and Family Justice Center, as well as county office buildings at 90 West Plato and Metro Square in Saint Paul.
The department also leads economic development projects such as the deconstruction and redevelopment of Riverfront Properties.
"At Ramsey County, Jean has distinguished herself by establishing and leading Union Depot's property management and event functions," said Heather Worthington, Deputy County Manager of Economic Growth and Community Investment. "She has also earned a reputation as a strong leader and valued partner with numerous business, transportation, community and civic partners and stakeholders."
"I look forward to working with this great and experienced team as we continue improving county properties to ensure they meet the current and future needs of our community," said Krueger.
Prior to joining Ramsey County, Krueger served for six years as the Director of Corporate Real Estate – North America at Unisys where she was responsible for providing services for 130 properties with an combined annual operating and capital budget of $128 million. Prior to that position, she served for more than fifteen years in facilities management roles at Unisys.
Krueger earned a BS in Chemical Engineering from the University of Minnesota and has taken master's level courses in systems engineering through the University of St. Thomas. She is an active member of Greater Saint Paul BOMA. Krueger lives in Prior Lake with her family.
Posted on
Friday, May 5, 2017 - 2:39 p.m.