July 16-22 proclaimed Community Corrections, Probation and Parole Week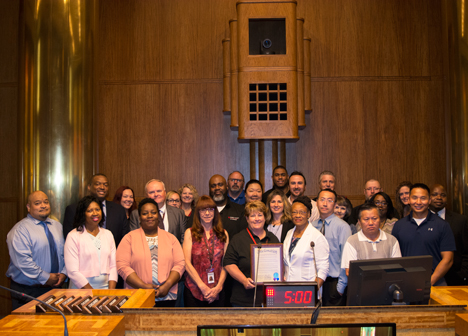 The board of commissioners has issued a proclamation in support of July 16-22 as Community Corrections, Probation and Parole Week. 
Ramsey County has approximately 200 probation officers and 125 assistant probation officers in Community Corrections who supervise juveniles and adults. This includes individuals who are supervised at local correctional facilities or residential treatment programs, and others who are under supervision while living in our community.
In 2016, Ramsey County juvenile probation served 952 youth and families; adult probation served 18,947 adults; and county facilities staff provided services for many juvenile residents and adult inmates at the Ramsey County Correctional Facility, Boys Totem Town and Juvenile Detention Center.
Probation officers provide a number of essential services including community monitoring and intensive supervision, but also investigations for the courts, risk and needs assessments, cognitive behavioral programs, employment referrals, counseling, re-entry services and more.
Community Corrections, Probation and Parole Week is an annual recognition event initiated by the American Probation and Parole Association. 
Posted on
Tuesday, July 18, 2017 - 3:06 p.m.