Kathy Hedin receives Outstanding Service Award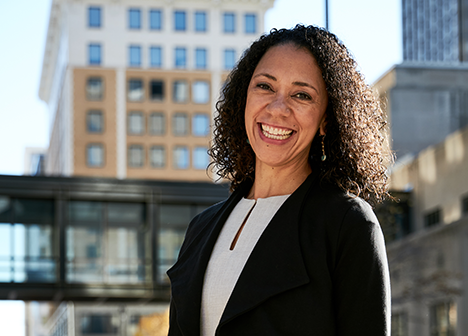 Kathy Hedin, Deputy County Manager of Health and Wellness, has received the Outstanding Service Award from the Association of Minnesota Counties. This award is presented to individuals who have exhibited exceptional leadership, innovation and/or participation in county government and the Association.  
Ms. Hedin is a highly respected leader in Ramsey County who exemplifies, through passion, compassion and action, what is means to model the county's core values of serving with integrity, advancing racial equity, valuing community, investing in people and empowering leadership at all levels. She has 20 years of progressive leadership experience in local government, and as a deputy county manager oversees six departments, 2,300 employees and nearly 40% of the county's budget.  
Ms. Hedin brings many strengths to her work and one is working with leaders to identify strategies for healthier workplace environments. Her collaborative style and ability to discuss difficult topics allows her to build, sustain and promote healthy working relationships and environments that produce beneficial outcomes. In addition, her passion for inclusivity through the practice of multiculturalism creates spaces for the highest level of integrity and staff participation. This allows for equity in the workplace where all people are valued and can thrive. Ms. Hedin's ability to invest in people who have routinely been discriminated against reduces secondary trauma, which sustains a healthier, more productive workplace, benefiting program and service delivery for county residents.
Watch the presentation at the Jan. 18 board meeting
Posted on
Tuesday, January 18, 2022 - 12:39 p.m.