Local church collects 15,600 pounds of food scraps annually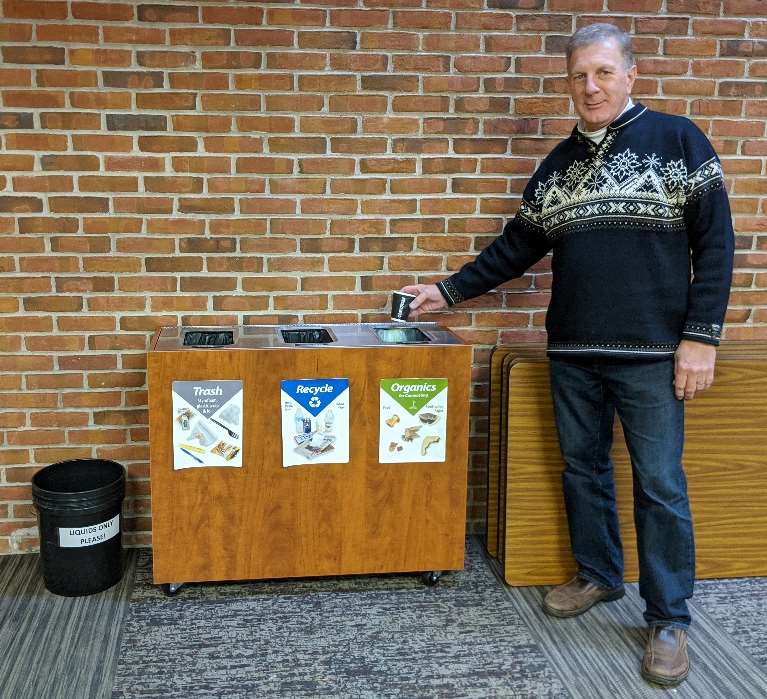 In March 2019, Trinity Lutheran Church in Stillwater received a BizRecycling grant to start a food scraps collection program. With the grant funding, Trinity Lutheran purchased containers, bin liners, compostable service ware and cleaning carts. They also purchased children's educational books about recycling.
To support the program, BizRecycling experts provided recycling education for church staff, including the janitorial crew and green team. Before the pandemic, green team volunteers monitored the food scraps bins after services to help community members dispose of materials correctly.
"There were too many barriers to accomplish what we did without BizRecycling," said Parish administrator Bob Eiselt. "BizRecycling's support made it economically feasible to improve recycling and lower costs."
By participating in the BizRecycling program, Trinity Lutheran collects 15,600 pounds of food scraps and other compostables each year. Trinity has reduced trash hauling costs by $75 a month since diverting more materials to recycling and food scraps collection.
On top of that, Eiselt said Trinity members were excited about the church's environmentally conscious decision to make recycling and collecting food scraps a priority.
Posted on
Tuesday, September 1, 2020 - 4:15 p.m.