Local engineering firm reduces trash, saves $2,400 a year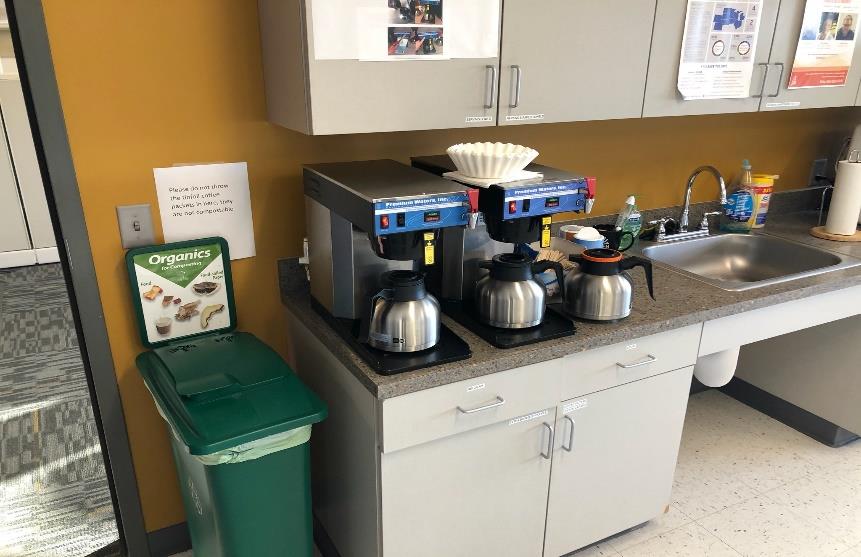 Short Elliot Hendrickson (SEH) is a large engineering and architecture firm headquartered in Vadnais Heights. The firm received a BizRecycling grant in 2018 to improve their recycling and start food scraps collection at its headquarters.
SEH used the grant money to purchase color coded waste stations and a six-month supply of certified-compostable bags. They also ordered a supply of plastic garbage liners made from recycled materials.
By collecting food scraps for composting, staff diverted an estimated 112 pounds each week from the trash. This allowed them to switch to a smaller trash dumpster, saving SEH about $200 per month in trash expenses. The food scraps are collected in a separate dumpster, which is not taxed.
"Building a better world for all of us is our core purpose at SEH" said Bob Cohrs, office manager. "We are very environmentally-conscious and wanted to put into action recycling best practices here at our office and create awareness among our employees on how they can recycle responsibly at work and at home."
BizRecycling works with businesses, as well as apartments and multi-unit buildings in Ramsey and Washington counties to improve their recycling and food scraps collection. Recycling experts can answer your business waste reduction and recycling questions by phone, email and video. They're also conducting on-site visits on a case-by-case basis. Contact BizRecycling if your business is interested in free technical assistance and applying for a grant. Learn more at BizRecycling.com.
Posted on
Saturday, August 1, 2020 - 2:32 p.m.