Local laundromat recycles more than 3,000 pounds per year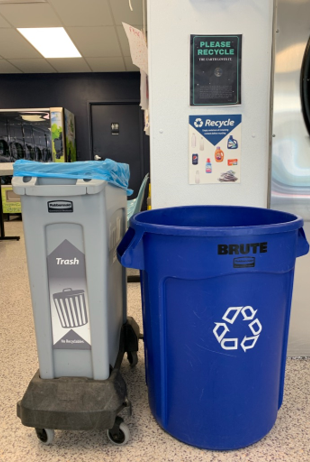 Beautiful Laundrette is a self-serve laundromat on the West Side of Saint Paul dedicated to making customers' washing and drying experience comfortable and hassle-free. In 2019, Laurel Gamm became the new proprietor of the laundromat on the corner of Elizabeth and Stryker Avenue in Saint Paul. After renovating the space, Gamm re-opened it as Beautiful Laundrette.
Soon after opening, Gamm found that much of what ended up in the trash was actually recyclable. As Gamm recalls, "I saw there were so many detergent containers people were throwing away that I knew could be recycled." With this in mind, she contacted BizRecycling for help implementing an effective recycling program. After working with a Waste Wise recycling expert, she applied for and received a BizRecycling grant to fund color-coded recycling and trash bins for both inside and outside the laundromat, a cart to assist in transporting the trash and recycling out to the dumpster, and custom-designed signage for the bins.
With these resources in place, Beautiful Laundrette is on track to recycle about 3,360 pounds of material per year that otherwise would have ended up in the trash. Gamm feels the recycling program has been going very well as a result of the assistance she received. She says of BizRecycling, "I tell everyone about this program, really, because it's great."
BizRecycling works with businesses in Ramsey and Washington counties to improve their recycling and food scraps collection. Recycling Experts are not currently providing onsite assistance, but they can help in other ways. Experts can still answer your waste reduction and recycling questions by phone, email, video, etc. BizRecycling is also still processing grant applications for businesses that are ready to make improvements (and save some money). Learn more at BizRecycling.com or call 651-266-1199. 
Posted on
Wednesday, June 3, 2020 - 10:55 a.m.