Margaret Lovejoy honored with proclamation at Dec. 17 board meeting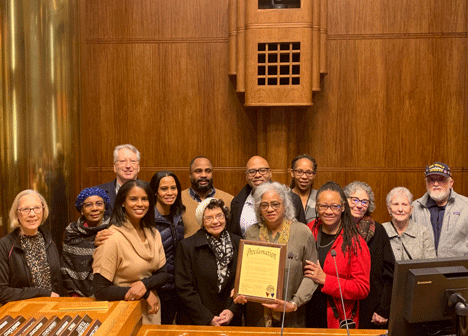 Margaret Lovejoy, a lifelong resident of Ramsey County, was recognized on Dec. 17 by the Ramsey County Board of Commissioners for her service and commitment to county children and families in need.
Watch a video of the presentation
Ms. Lovejoy founded Family Place in 2001 to help families experiencing homelessness. As the executive director of the Family Place, she provided day shelter services, including social work, education, mentoring, hot meals and showers in a caring and nurturing environment for families and children.
Ms. Lovejoy has won numerous awards for her work with families, including a Community Partnership Award from the University of Minnesota, the Local Legend Award from General Mills and the United Negro College Fund, the Alumni of the Year Award from Metropolitan State University and the 50 over 50 Nonprofit Award. She was also inducted into the Central High School Hall of Fame.
Posted on
Tuesday, December 17, 2019 - 12:26 p.m.