May 14-20 is National Police Week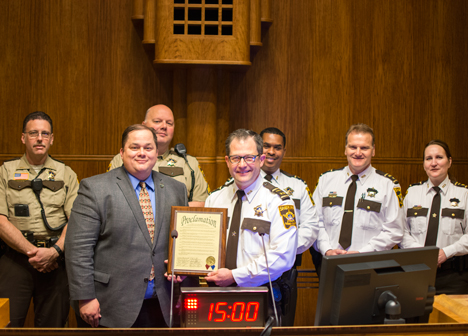 The board of commissioners has proclaimed the week of May 14-20 as National Police Week in honor of the dedicated service of law enforcement officers in Ramsey County and across the nation. 
There are approximately 900,000 law enforcement officers serving in communities across the United States, more than 400 of those from the Ramsey County Sheriff's Office. Members of the office include full-time and part-time staff, temporary employees and active volunteers. 
The service and sacrifice of Ramsey County suburban law enforcement officers will be honored at the Suburban Ramsey County Law Enforcement Memorial Ceremony on Thursday, May 18 at Salem Covenant Church  (2655 Fifth Street NW, New Brighton, MN). The ceremony begins at 11 a.m. and is open to the public. 
View the proclamation and board video. 
Posted on
Monday, May 15, 2017 - 1:11 p.m.