May 7-13 proclaimed Correctional Officers and Employees Week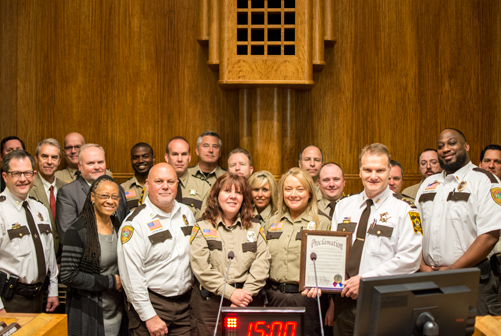 The board of commissioners has proclaimed May 7-13, 2017, as Ramsey County Correctional Officers and Employees Week in honor of the nearly 300 dedicated full-time and intermittent correctional officers, sergeants, lieutenants, captains and support staff that work in the Sheriff's Office and Community Corrections department.
Ramsey County's correctional officers are highly trained and highly skilled men and women who complete the often thankless job of safely, securely and humanely housing inmates arrested, charged or convicted of crimes within the county and state. In 2016, the county's correctional officers safely and efficiently processed nearly 21,000 inmates at the Adult Detention Center and nearly 4,000 inmates at the Correctional Facility.
Posted on
Tuesday, May 9, 2017 - 10:20 a.m.