May is Foster Care Awareness Month: Learn the facts about becoming a foster parent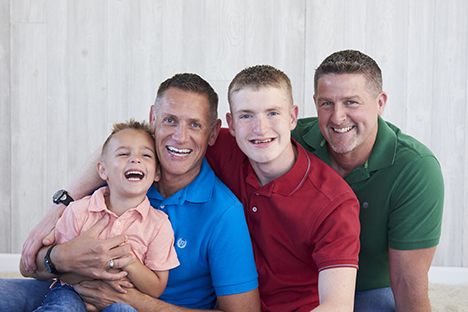 May is National Foster Care Month. We take this time to recognize the 800 licensed foster care providers, policymakers, child welfare professionals, and others who help the approxomately 1,000 youth in Ramsey County foster care find brighter futures and permanent homes.
Foster care helps provide temporary homes for children whose parents or guardians cannot take care of them. When kids cannot live with someone they know, they are matched with a licensed foster care provider. The goal of foster care is to keep children safe while supporting families' efforts to reunite. Most children who enter foster care (69 percent) return to their families.
Foster parents come from backgrounds as diverse as the children they care for and make a difference every day. There are some common misconceptions about who can or can't become a foster parent.
Myths and facts about foster parents
MYTH: I have to be married, wealthy and own my home to foster or adopt.

FACT: People from all types of backgrounds can foster or adopt a child. Whether you are single or married, own or rent your home, have children already or don't, work full-time or stay home, you may be eligible. Adoptive and foster parents do have to complete free training classes, be at least 21 years of age, pass background checks, and be able to provide a stable and loving home for a child or children who have experienced abuse or neglect.

MYTH: My children are grown and out of the house. I'm too old to be a foster parent.

FACT: There is no age requirement (other than you must be at least 21). Many "empty nesters" find foster parenting to be a rewarding experience.

MYTH: I don't have any children. To be a foster parent you need to have parenting experience.

FACT: Many foster parents are childless. They are, however, responsible people who have made a commitment to children and demonstrate an ability to parent or a desire to learn parenting skills.

MYTH: I would have to provide medical insurance for a foster child in my home.

FACT: Foster parents do not pay any of a child's medical expenses, other than over-the-counter medicines and supplies. Each child in foster care is covered by the governing jurisdiction for their medical, dental, and mental health care needs.

MYTH: LGBTQ partnerships can't provide foster care.

FACT: Ramsey County needs LGBTQ families that will support our LGBTQ youth.
Get involved
Anyone interested in starting the process to become a foster parent is invited to attend an online orientation session. 
RSVP for an upcoming orientation
Can't become a full-time foster parent, but still want to support Ramsey County kids in foster care? There are many ways to get involved:
Get licensed to provide temporary respite foster care.
Donate or volunteer at organizations like:

Big Brothers, Big Sisters Twin Cities.
Foster the Love Minnesota.
​MN ADOPT. (has programs for foster parents)
Posted on
Wednesday, April 27, 2022 - 11:40 a.m.