Meet Alex: Reuse pioneer for Ramsey County Environmental Health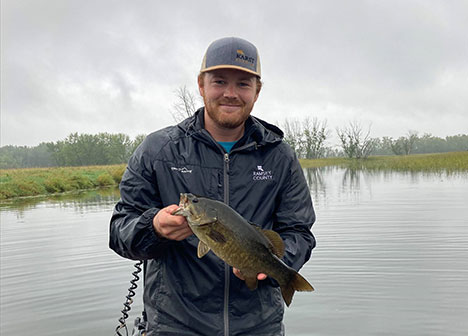 A lot happens behind the scenes in the Environmental Health Division of Saint Paul - Ramsey County Public Health. We sat down with Environmental Health Specialist, Alex Fredberg, to learn about his role in the division, his passion for sustainability, and advice for others wanting to work in the field.
At a glance:
Started: 2017.
Role: Environmental Health Specialist.
Unit: Solid Waste Services.
Main role: manages all internal reuse, recycling and waste programs for Ramsey County properties.
What is your role in Environmental Health?
I do a lot! My main role is to manage all waste and recycling programs for county properties, like buildings, arenas, golf courses and yard waste sites, to name a few. I maintain over 300 accounts for trash, recycling and food scraps services with our contracted hauler. That includes scheduling pickups, paying invoices and ensuring quality control.
I also help county properties focus on reuse. I often come across items no longer needed in one department that are in great shape. I make sure they get a chance to be reused by other departments instead of being recycled or disposed of. This is a more eco-friendly approach and saves the county money. Reuse in our county departments has really caught on in the past couple years.
Why do you work in the field of environmental health? What motivates you?
I like being able to help control and decrease the waste the county generates and make sure items are either being reused or recycled rather than thrown away. You have to be the right person to do this job considering waste is generated every single day!
Also, I enjoy seeing how residents benefit from our collection programs (food scraps, household hazardous waste, yard waste and medicine collection). Folks seem so thankful for these resources, which give them the opportunity to do the right thing for the environment.
What topic related to sustainability are your most passionate about?
Reuse. I love taking someone's "junk" and figuring out how to extend its life. Also, I love being eco-friendly at home by recycling, collecting food scraps and reusing items.
What advice do you have for others who want to serve in this field?
You have to be passionate about it. Build relationships with people in the field. Get educated (a degree goes a long way). Most importantly, try to immerse yourself in the field. A hands-on experience, like an internship, field experience or volunteer role, is so valuable to know what environmental health is really like.
When I'm not working for Environmental Health, you can find me…
Up north. At a cabin. On a lake.
This article is part of a series highlighting behind-the-scenes work at Ramsey County Environmental Health. To learn more about this division, check out our solid waste management master plan (PDF).
This article is featured in Green Ramsey, an environmental health newsletter from Ramsey County. 
Learn more about and subscribe to Green Ramsey.
Posted on
Tuesday, February 1, 2022 - 8:00 a.m.