Nationwide test of the Wireless Emergency Alerts system to be conducted Oct. 3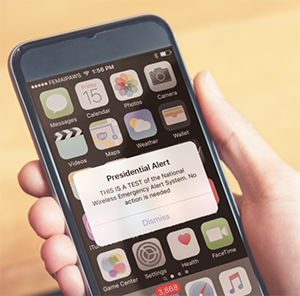 On Wednesday, Oct. 3, the Federal Emergency Management Agency will conduct a nationwide test of the Wireless Emergency Alerts system for the first time.
During the test from 1:18 to 1:48 p.m., a "Presidential Alert" banner will pop up on compatible cellphones, accompanied by a loud tone and vibration.
Unlike other emergency alerts, users are not allowed to block warnings issued by the federal government; however, phones must be powered on and have reception to receive alerts. While it's labeled a "Presidential Alert," the test will not come from the president himself.
More than 40,000 emergency alerts about dangerous weather, missing children and other urgent events have been issued to cellphones since 2012, but until Oct. 3, all have targeted specific regions.
The Federal Communications Commission will also conduct a national test of the Emergency Alert System Oct. 3 across radio and television broadcasts beginning at 1:20 p.m.
The standard monthly test of Ramsey County's outdoor warning sirens will be conducted at 1 p.m. The test is unrelated to the national tests.
Posted on
Monday, October 1, 2018 - 5:31 p.m.