New murals installed in City Hall-Courthouse chambers
New murals have been installed in the Council Chambers of Saint Paul City Hall and Ramsey County Courthouse.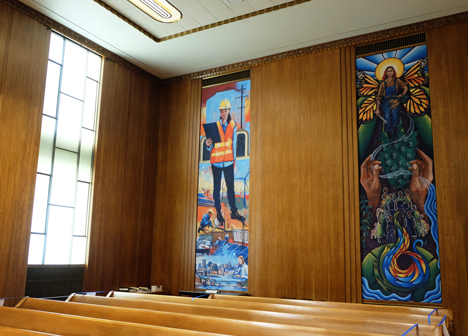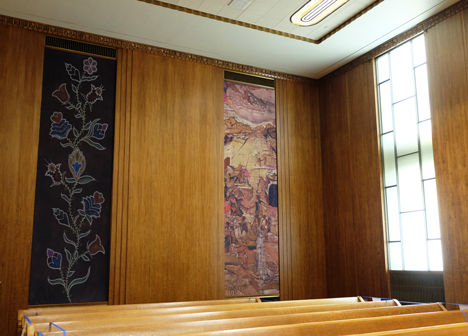 Ramsey County, the City of Saint Paul, Ramsey County Historical Society (RCHS) and local artists unveiled the artworks at a socially distanced public event on Aug. 19.
Photos of the artwork, including artist statements, are available on the RCHS website. The works were created by artist collaborative CLUES Latinx Mural Project and artists Emily Donovan, Adam Swanson and Leah Yellowbird 
Watch the unveiling on Facebook Live
In December 2018, the county and city launched a project to create contemporary community-based artworks for exhibition in the chambers in partnership with RCHS. RCHS established a community task force to select four local artists to create original artwork and associated interpretive materials. In August 2020, city and county elected officials accepted the task force recommendations to exhibit the selected artworks as the introduction of a public art program at the building.
Reproductions of the artworks are displayed in front of the original 1930s industrial-themed murals in the Council Chambers, which have been preserved. The original murals are a product of their time and do not represent or reflect the rich diversity of today's communities in Saint Paul or Ramsey County – the most racially and culturally diverse county in Minnesota. 
Posted on
Wednesday, August 19, 2020 - 3:24 p.m.