New online Open Data Portal launched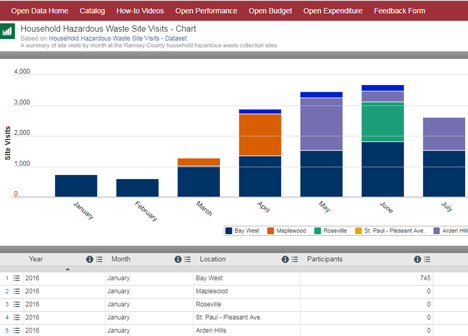 Ramsey County launched its online Open Data Portal September 23 in conjunction with Code Switch - a 'civic hacking' event held at Union Depot. 
The new Open Data Portal has four aspects:
The portal currently contains dozens of datasets related to the county's operations which will be expanded and maintained on an ongoing basis. An integral feedback feature and accompanying engagement efforts provide citizens and community groups with the ability to help shape the prioritization of data added to the portal. 
Another feature of the portal is the ability to present 'data stories' that provide additional context to datasets and visualizations. View a data story about pre-demolition hazardous waste removal.
The public data in the portal can be used to create comparative charts and graphs, downloaded in spreadsheets and other formats, developed into mobile apps, and used for other purposes.  
Developing and launching the Open Data Portal has been one of the county's strategic priorities in 2016 and 2017. Socrata was selected as the vendor for Ramsey County's Open Data platform in late 2016. Since that time, a project team has coordinated with county staff and community groups to compile, assemble and publish datasets and information on the portal.
Posted on
Saturday, September 23, 2017 - 9:02 a.m.