Nov. 21 proclaimed Youth Farm Day in Ramsey County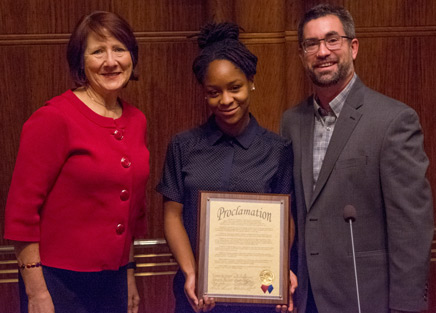 The Ramsey County Board of Commissioners congratulated Youth Farm for its selection as the University of Minnesota Extension's 2017 Farm Family of Ramsey County at the Nov. 21 board meeting. The board also declared Nov. 21, 2017, as Youth Farm Day in Ramsey County. 
Youth Farm, originally called Youth Farm and Market project, was established in 1995 with the purpose of creating an urban environment where youth could flourish physically, socially and emotionally. Youth Farmers work on the land, grow and prepare food, distribute produce and prepared healthy meals - all while building intergenerational, cross-cultural and confident relationships. The program has worked with more than 5,000 youth in the West Side and Frogtown neighborhoods of Saint Paul and the Lyndale, Hawthorne and Powderhorn neighborhoods of Minneapolis. 
Commissioner McGuire presented a copy of the proclamation to Youth Farm's Executive Director Gunnar Liden and Farm Steward Divine Islam at the board meeting. 
Posted on
Tuesday, November 21, 2017 - 4:10 p.m.