Participate in May's Mental Health Awareness Month activities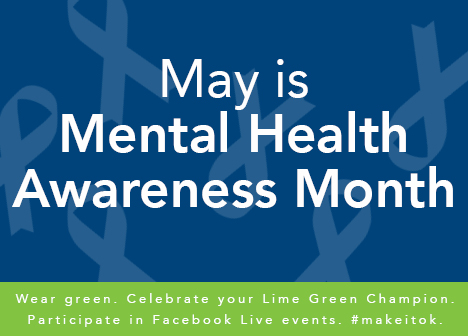 Did you know? Each year, one in five adults in the United States will experience some form of mental illness. Even though mental health conditions are common and treatable like physical health conditions, many people are still afraid to talk about them due to feelings of shame, stigmas or fear of discrimination. It's important to remember that mental illnesses are common and treatable and mental health is essential to everyone's overall health and well-being.
May is National Mental Health Awareness Month. Throughout the month, Public Health and Social Services are providing opportunities for everyone who lives, works, and plays in Ramsey County to learn and spread awareness about mental health and well-being.
Share your Lime Green Champion and wear green on Friday, May 3
Everyone has someone/something in their life that champions their mental health and well-being, their Lime Green Champion. On Friday, May 3 (and throughout the month), take a moment to acknowledge that person, organization, animal or object you carry that gives you peace:
Write the name of your champion on a paper ribbon.
Place the ribbon on the wall.
Take a photo and upload it to your social media account(s).
Say a little something about your champion, tag Ramsey County and use the hashtag #makeitok.
Remember to also wear green on Friday, May 3 to promote mental health awareness at work, at home and in your community. Share photos on your social media account, say a bit about why mental health is important to you, tag Ramsey County and use the hashtag #makeitok.
Learn more and share these activities with others:
Ask questions and learn about mental health topics during Facebook Live events
Ramsey County and community mental health professionals will host four Facebook Live events covering topics that can help people living and caring for others with mental health challenges. Watch the mental health awareness Facebook Live events Fridays in May at 12:30 p.m. on Ramsey County's Facebook page:
May 3 | Child and family mental health
May 10 | Mental health for the aging
May 17 | Substance Use Disorders
May 31 | LGBTQ+ mental health
More Mental Health Awareness Month resources:
Posted on
Thursday, April 18, 2019 - 9:40 a.m.