Purple Heart presented at Veterans Services open house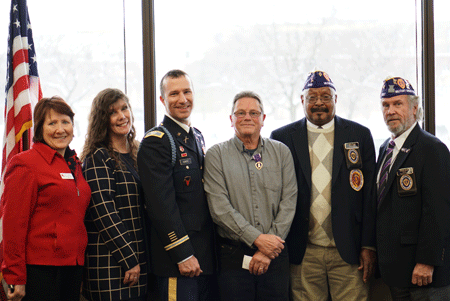 Ramsey County Veterans Services held an open house on Friday, December 16. An estimated 150 residents attended the open house to learn more about assistance and support services for veterans. 
As a part of the open house, a Purple Heart ceremony took place to recognize Vietnam Veteran Dennis Jirik of Shoreview. On April 13, 1969, PFC Jirik was injured by a rigged explosive device while he was on patrol as a Track Vehicle Commander. The explosion resulted in wounds to his face, neck and shoulders, and he was transported to an evacuation hospital as a result of his injuries. Orders for the Purple Heart were drawn on April 14, 1969, but Mr. Jirik was never presented with the award.
Colonel Richard Schute of the Minnesota National Guard presented Jirik with the Purple Heart.
Pictured left to right: Commissioner Mary Jo McGuire, Veterans Service Officer Deb Kaiser, Colonel Richard Schute, Dennis Jirik, Willie Pargo and Chuck Jones of the Military Order of the Purple Heart
Posted on
Monday, December 19, 2016 - 6:14 p.m.